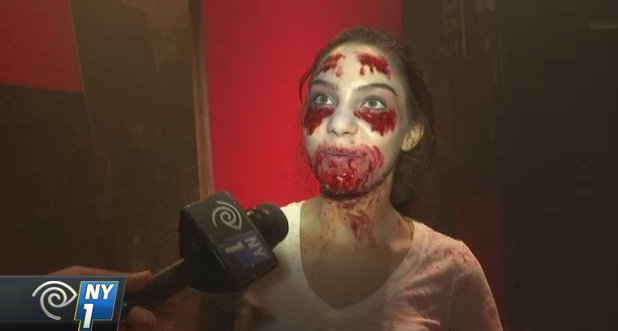 The NYC Arts Cypher is interesting all year, but in the days leading up to Halloween, the Cypher transforms into a terrifying haunted house. Today, they were interviewed by NY1 news about their haunted holiday special.
NYC Arts Cypher's office building may like it normally does from the outside but as soon as you walk through the doors there is a surprise around every corner.

"I love Halloween and I love doing this. I love scaring people," said volunteer Shoshanna Blumberg.

Blumberg is one of several volunteers at the non-profit's haunted house on Broad Street. The event has been held for 5 years.

It's so exciting because people are really passionate about halloween and its so easy to get them to get involved," said Charlie Balducci, the Executive Director of NYC Arts Cypher.

Volunteers and community members spend several weeks building the two-story maze. Stefanie Greenberg is an EMT by day and Zombie by night. It was her first year participating.

"It shows we are part of a community. It shows we can come together and have fun," said Greenberg.
Read the whole story and watch the video on NY1's website, here
NYC Arts Cypher | 12 Broad St, Staten Island, New York 10304 [map]
Written By Christopher Olivieri
Chris is a communications professional with a passion for pop culture, media, and all things creative. He has a Bachelor's degree in Communications with a specialization in Media Studies and has experience in running a pop-culture website, freelance writing, coaching, and speaking engagements. He has worked behind the scenes on music albums and co-founded a boutique web design and marketing firm. He is also an amateur photographer and musician. He is always looking for the next exciting project to dive into.