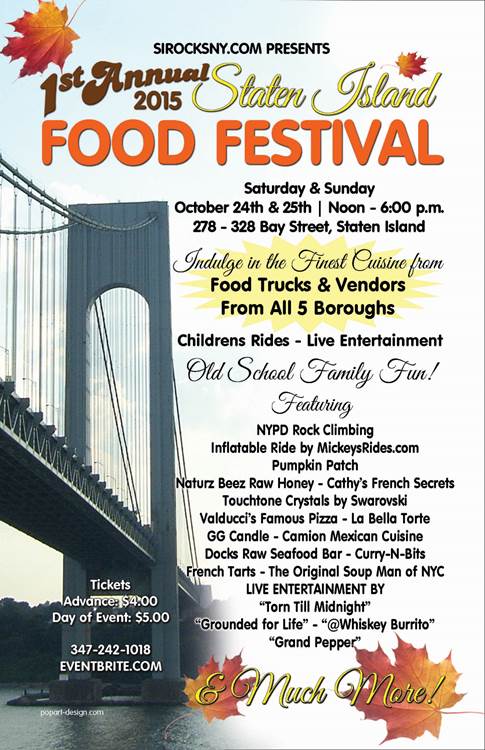 If you're a food lover on Staten Island, this is one event that you absolutely don't want to miss. The Staten Island Advance's Pamela Silvestri highlighted the event in her weekend roundup on SILive.com. Here's what she had to say about the event:
In the mood for something raw from Dock's Clam Bar on a crisp fall afternoon? How about slice of Valducci's pizza or a hot soup served courtesy of the Soup Nazi?

You can find all that at the inaugural Staten Island Food Truck Festival from noon to 6 p.m. Saturday and Sunday, Oct. 24 and 25, in Tompkinsville

Organized by chef Louis Marfolglio — of "The Chef's Table" and Chef Louis Catering at Kaufmann Campgrounds in Seaview — this outdoor event sets up between 278 and 328 Bay Street, a triangular patch adjacent to St. Julian Place and the Van Duzer Street Extension.

Marfoglio promises food trucks from around the city like La Bella Torte and vendors such as Fab Cup of West Brighton and Naturz Beez Raw Honey from New Jersey.

Entertainment includes an NYPD rock climbing wall, inflatable rides and live entertainment with stand-up comedy. Live acts include: Torn Till Midnight, Grounded For Life, Whiskey Burrito and Ground Pepper.
Tickets are available for purchase in advance of the event on Eventbrite for only $4.
The Staten Island Food Festival takes place on October 24th and 25th from noon to 6pm at 278-328 Bay Street
Day 2 (Sunday, October 25th) has been cancelled due to inclement weather
Written By Christopher Olivieri
Chris is a communications professional with a passion for pop culture, media, and all things creative. He has a Bachelor's degree in Communications with a specialization in Media Studies and has experience in running a pop-culture website, freelance writing, coaching, and speaking engagements. He has worked behind the scenes on music albums and co-founded a boutique web design and marketing firm. He is also an amateur photographer and musician. He is always looking for the next exciting project to dive into.