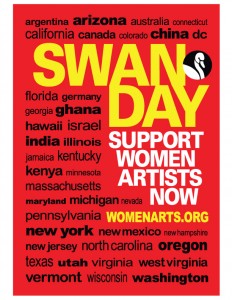 LOCAL ARTISTS JOIN INTERNATIONAL CELEBRATION OF WOMEN ARTISTS
This Way on Bay is pleased to announce that for the second year in a row, a free, celebratory event is planned on Saturday, March 28th, 2015 from 3:00 pm to 7:00 pm. SWAN DAY STATEN ISLAND 2015 will be held at the Staten Island Artist Building Corp. at 73 Wave Street and is facilitated by Owner John Salis and Managing Director, Calvin Motte. This is a celebration done in collaboration with local female artists from Staten Island to raise awareness of women working and contributing to our community through their art forms.
This event is part of an international celebration of women artists whose acronym, S.W.A.N., stands for "Support Women Artists Now". Facilitated by WOMENARTS (Womenarts.org), this holiday takes place yearly on the last Saturday of Women's History Month in March and the surrounding weeks. WomenArts.org's Co-founder of SWAN Day, Martha Richards said it best: "Women artists are creating change in their communities and around the world. This day of celebration will help people imagine what the world would be like if women's art and perspectives were fully integrated into all of our lives. The long term goal of SWAN Day is to inspire communities to recognize and support women artists as a basic element of civic planning."
The multidisciplinary event , which is participant led, will include original musical performances by Joan Caddell, Queen Tipsy (Phyllis Forman), Christine Dixon and others; a dance performance by Florence Poulain and her Butoh Dancers , and various original spoken word monologues by local artists are also being scheduled at the time of this writing. Celebrants will also have the opportunity to share their most recent and upcoming projects with other attendees and all are encouraged to bring any literature and/or small pieces of their own art to hang on the walls for the afternoon's event. An "Artist Raffle" will also be held in order to raise funds for next year's SWAN DAY STATEN ISLAND. Baskets made up of donated pieces of art by Susan Grabel, Linda Klein, Malissa Priebe, Marilyn Kiss and Denise Mumm and others will be on display. Light refreshments will be served.
On SWAN DAY, the public will have a chance to see work by women and be inspired to seek out the work of women artists in our community all year long. Long overdue on Staten Island, this celebration promises to become a yearly extravaganza!!
For more information contact: swandaystatenisland@gmail.com OR find us on FACEOOK: Swan Day Staten Island 2015.