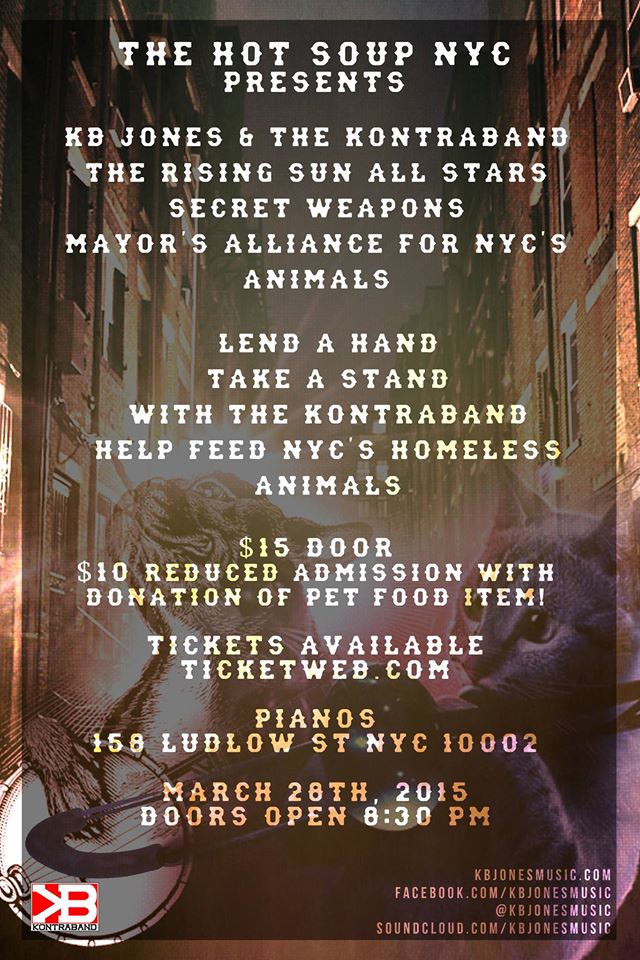 North Shore hip-hop outfit, The Rising Sun All-Stars, are taking their Staten Island sound over the Hudson to PIANOS on Ludlow Street in Manhattan next weekend. The group, who we're recently named Staten's #2 hip-hop act (behind only the Wu Tang Clan, I mean c'mon) will be joined by Secret Weapons, and KB Jones & The Kontraband.
Rising Sun attained national coverage earlier this year, after writing a song which paid tribute to Eric Garner.  New York Magazine's Vulture blog wrote:
A month ago, the Rising Sun All Stars released a song inspired by what Nieves witnessed that day, joining the ranks of better-known artists from around the country who have been using hip-hop to express their angerand grief over the mistreatment of black people at the hands of police. G-Unit and J. Cole, Alicia Keys and Killer Mike — it's a long and eclectic list. Nieves's song "I Can't Breathe" is dark and angry, with a rugged boom-bap beat inspired by the distinctive Wu-Tang sound. NenJah Nycist, the band'semcee, raps from Garner's point of view, alluding to his peaceful reputation. "I'm no stranger to these streets / everybody know me, I never start beef." You can listen to the song for free on SoundCloud or Bandcamp, where it has been played several thousand times. The band says they'll pass along all donations to Garner's family, though so far they've only managed to raise $200. The song has yet to get much play off the Island.

Staten Island is a racially divided place, with the homes of white cops, firefighters, and nurses spread out across the suburban-style neighborhoods of the South Shore and the borough's growing black and Latino communities concentrated in the densely populated neighborhoods to the north. The Rising Sun All Stars span the divide. Nieves and his cousin Ruben, a percussionist, are of Puerto Rican descent, and NenJah and Ariana Smith — one of the band's two singers — are black. The other singer, Mike Costello, along with the two guitarists, Pat Nowak and Dave Giordano, are white.

Read More, here.
Next week's show is also for a good cause. Attendees who donate a pet food item receive discounted admission.
See the official event invite for the PIANOS show on Facebook, here.
Can't Wait? There's Always More Music
For those of you who just can't wait, or don't feel like making the trip to Manhattan, the band will also be playing at Mother Pugs on 03/20 at Everything Ever's record release party.
More info on that can be found, here.
Written By Christopher Olivieri
Chris is a communications professional with a passion for pop culture, media, and all things creative. He has a Bachelor's degree in Communications with a specialization in Media Studies and has experience in running a pop-culture website, freelance writing, coaching, and speaking engagements. He has worked behind the scenes on music albums and co-founded a boutique web design and marketing firm. He is also an amateur photographer and musician. He is always looking for the next exciting project to dive into.