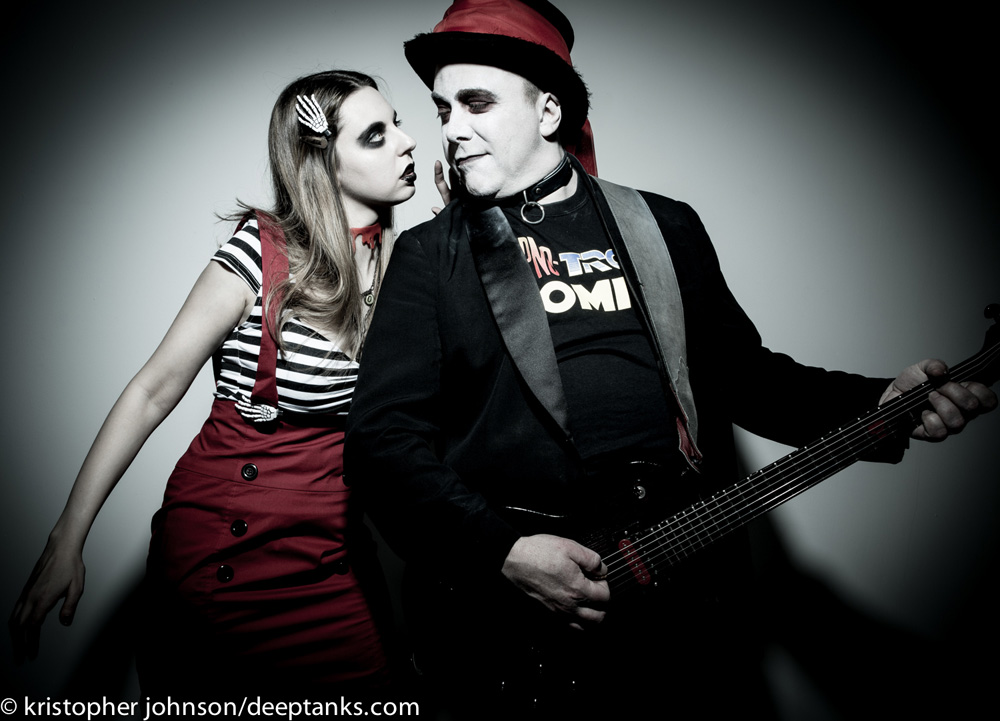 Even after being spotlighted in The Advance's "Best of Staten Island: Cover Bands" poll last year, there's a good chance you haven't heard of The Flesh Junkies. The zombie punk cabaret outfit is one of the island's most intriguing acts in years. This Friday, March 25th they'll be performing live in the Mezzanine Lounge of the St. George Theater.
The official invite for the event on Facebook promises that attendees "will hear songs by The Cramps, The Mumps, The Kinks, X, Blondie, Lou Reed, David Bowie, and much much more"
For this particular performance, the group has been collaborating with Staten Island's resident retro-fashion expert Vivian Vassar of HeyViv.com fame.
"I've seen The Flesh Junkies preform a number of times and I've always loved the Zombie/Vampire love story they tell and the cool music they play. I took a few pictures of Miss Rina of The Flesh Junkies at their last concert at Pepper Jack's Restaurant." explained Vassar, who wondered how Miss Rina, a mainstay of the Junkies, would look in HeyViv's brand of retro garb.
Inspired, Viv contacted the band, who promptly accepted her proposal to team up for the St. George Theater performance.  "Miss Rina's sexy vampiric style cried out to be immortalized," said the excited designer. "So we set up a photo shoot with Kristopher Johnson at Deep Tanks Studio on Bay Street."
Check out a couple of samples from that Deep Tanks photo shoot, complete with wardrobe provided by HeyViv and Hypno-Tronic Comics, below:
More information about the event can be found, here.
Written By Christopher Olivieri
Chris is a communications professional with a passion for pop culture, media, and all things creative. He has a Bachelor's degree in Communications with a specialization in Media Studies and has experience in running a pop-culture website, freelance writing, coaching, and speaking engagements. He has worked behind the scenes on music albums and co-founded a boutique web design and marketing firm. He is also an amateur photographer and musician. He is always looking for the next exciting project to dive into.