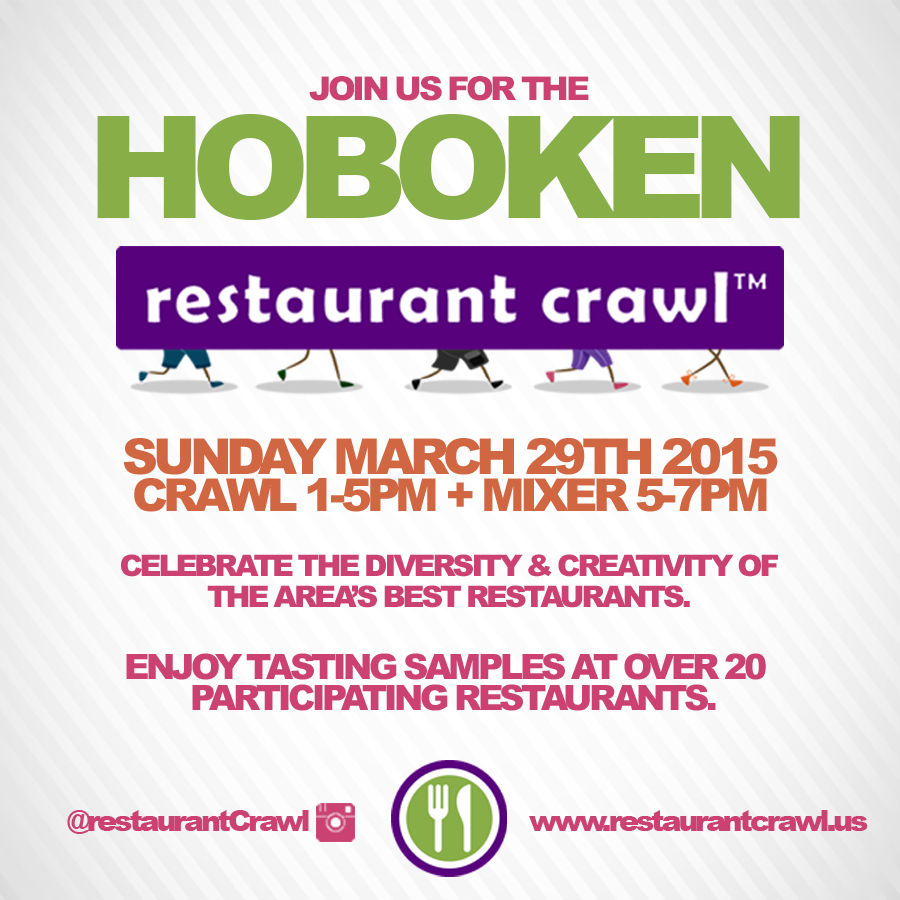 Bay Street catering company, Chez Vous Caterers is an official sponsor of this Sunday's Hoboken Restaurant Crawl. The six hour experience will take place from 1pm to 5pm and features some of Hoboken's best establishments.
RestaurantCrawl.us is hosting their inaugural Hoboken Restaurant Crawl on Sunday, March 29th 2015.

A Restaurant Crawl is a self-guided tasting experience of restaurants in and surrounding a particular neighborhood. Guests who purchase a ticket can visit each participating restaurant to enjoy a tasting of the restaurant's favorite house dish.

Starting at 1:00 pm, participants can bring their ticket to any participating restaurant to begin their crawl experience. Participants can then visit participating restaurants until the crawl ends at 5:00 pm.

From 5:00 pm to 7:00pm, a mix & mingle after-party will be hosted at Teak on the Hudson. This grand finale of the event features various giveaways and a wrap-up of the day's events.

The crawl will feature tastings from the following Hoboken Eateries:

Stingray Lounge, The Brick, Napoli's Brick Oven Pizzeria and Restaurant, AliBaba Middle Eastern Fare, Boardwalk Fresh Burgers and Fries, 8th Street Tavern, Margarita's Cafe, Mikie Squared Bar & Grill, Giovani's, Arthur's Steak House, Crêpes and Things – Hoboken, Slider Street Hoboken, The Shannon Hoboken, McSwiggan's Pub, Marty O'Brien's, Jimmy John's, The Dubliner, Love & Yogurt, Biggies Clam Bar, Green Rock Tap & Grill, Teak On The Hudson, Hotel Victor Bar & Grill, Cadillac Cantina, and Texas Arizona.

Sponsors for the event include Chez Vous Caterers, Teak-On The Hudson, WFDU, and 90.3 The Core.
For tickets to the event, click here.
See the official map for the crawl below:
Written By Christopher Olivieri
Chris is a communications professional with a passion for pop culture, media, and all things creative. He has a Bachelor's degree in Communications with a specialization in Media Studies and has experience in running a pop-culture website, freelance writing, coaching, and speaking engagements. He has worked behind the scenes on music albums and co-founded a boutique web design and marketing firm. He is also an amateur photographer and musician. He is always looking for the next exciting project to dive into.