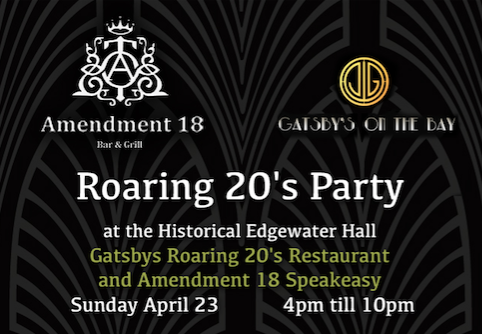 It's very common, in this day and age, for people to want to live in a different era. You'll sometimes hear people say, "I was born in the wrong decade", or "I'm a 20's kind of girl." And without a time machine, people typically cannot go to the decade where they believe they really belong. That is, until now.
Staten Island's Gatsby's On The Bay and newly opened Amendment 18 Bar & Grill will be hosting a Roaring 20's Party on Sunday, April 23rd at the Historical Edgewater Hall. The event will feature bands in both portions of the hall, 1920's artwork throughout, and 1920's – 1930's cars will be on display.
The party will also offer dance performances and lessons on how to do a few old school dances such as the "Charleston", "The Shimmy", and the "Lindy Hop"
People in attendance are encouraged to dress for the occasion and a free drink will be offered for anyone and everyone dressed in Roaring 20's attire.
The event will be held on April 23rd at the Historical Edgewater Hall located at 691 Bay Street in Staten Island. Things will get started around 4 in the afternoon and will continue until 10 pm.Check out the flyer below for more information.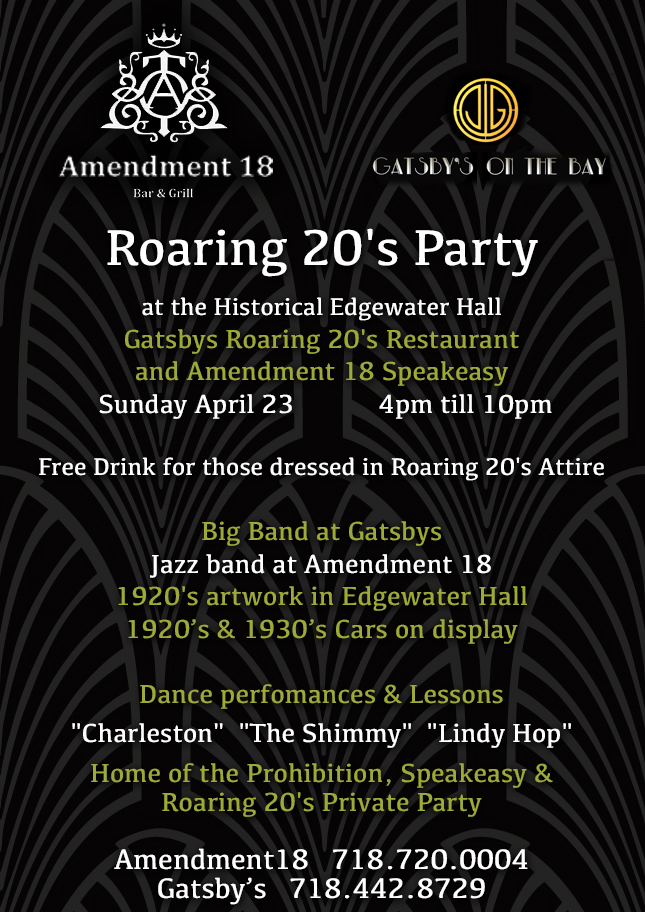 Written By Chris Knight
Chris first began throwing words on paper when he was just a young little boy and while he has grown in age, his size has remained the same.
It has been said that if Disney World were a person, that person would be Chris.
A self-proclaimed professional storyteller who writes stories for money.
And for providing entertainment, he guesses.
Chris also collects dead presidents, but hates going to the beach.
He is a great juggler,
certified in advanced scuba diving,
and also a liar.