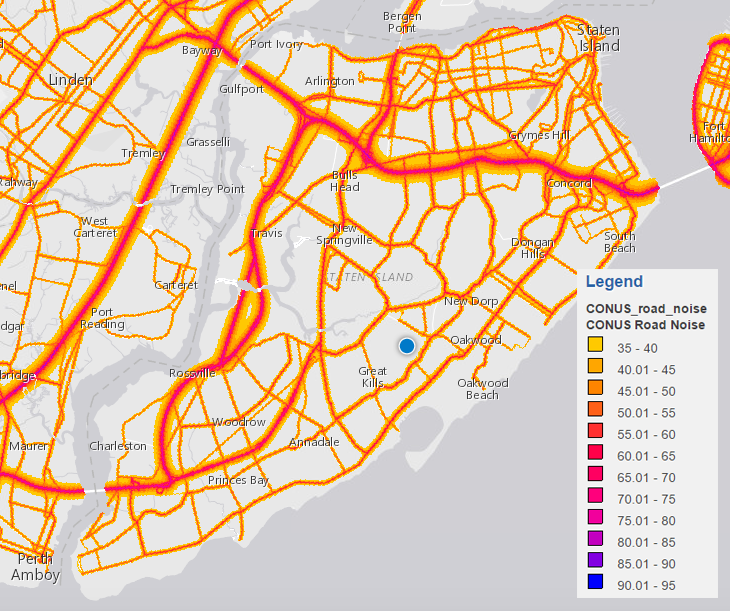 Everyone always talks about how loud New York City actually is. The people who hate living here use it to complain and the people who love living in New York insist they don't mind the noise. Either way, the general consensus is that where we live is noisy but we aren't the only place that has a little too much noise. The Department of Transportation has released a new National Transportation Noise Map that shows us that almost 100%, 98%, of Americans have to sit through various levels of noise caused by transportation.
Whether it's a bus or a train, or even a cab, New York City, and specifically the borough of Staten Island, is one of the noisiest places in the country, which should come as absolutely no surprise to anybody. If you observe the map, you should notice that the bulk of the noise stems directly from highways, roads, and transportation routes and the majority of that noise is taking place on the north shore of the island. I guess we all know where the real parties are. The portions of the Staten Island map that are noisier than the rest are the parkways and expressways, including the 440, the Korean War Veteran's, and the Staten Island expressway. In fact, if you're walking through Willowbrook park, your enjoyment of the park is sidestepped by the noise coming from the Staten Island Expressway.
The NYC noise code utilizes different decibels to measure the scale of the noise around the city. A typical conversation will range anywhere between 50 and 65 decibels, a motorcycle will measure around 88 decibels, and a vacuum cleaner that's ten feet away from you will measure at 70 decibels. It's interesting to think about how much noise an everyday conversation can actually have.
See the DOT's Transportation Noise Map for yourself, here
Written By Chris Knight
Chris first began throwing words on paper when he was just a young little boy and while he has grown in age, his size has remained the same.
It has been said that if Disney World were a person, that person would be Chris.
A self-proclaimed professional storyteller who writes stories for money.
And for providing entertainment, he guesses.
Chris also collects dead presidents, but hates going to the beach.
He is a great juggler,
certified in advanced scuba diving,
and also a liar.