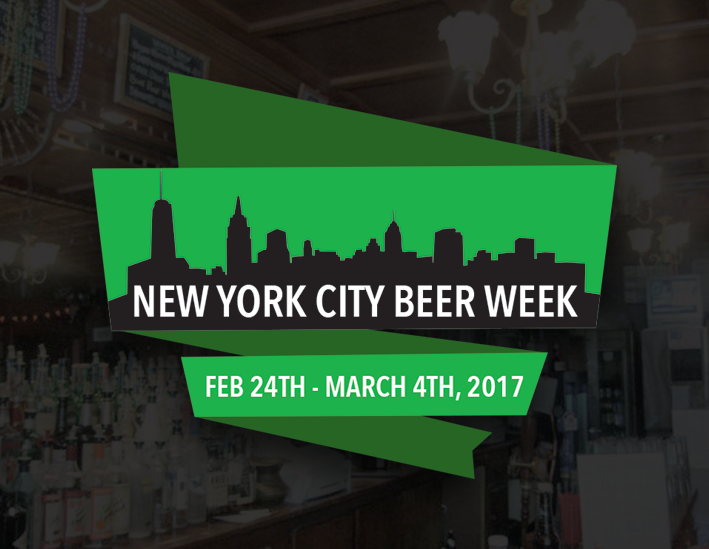 New York City Beer Week is officially upon us, and beer enthusiasts all over the city are celebrating accordingly. The New York City Brewers Guild has put together an entire calendar of beer tasting events throughout the city, happening now through March 5th.
For the last eight years, the New York City Brewers Guild has been organizing this eight-day celebration to honor and promote the city's growing brewery community. New York City Beer Week features beer tastings, parties, tap takeovers, beer dinners, and festivals all over the five boroughs. Although the majority of NYC Beer Week's events will be happening in Manhattan, Brooklyn, and Queens, there are plenty of ways to get in on the action without having to take a ferry or a tunnel.
Staten Island's own Flagship Brewery is a large part of this week's festivities. They'll be featuring their dry hopped American Sour Ale, Wild Island, in their taproom and in several bars throughout the borough.
Check out the list below to see where to celebrate New York City Beer Week and to support your local watering hole:
Craft House
NYC Beer Week is Barrel Aged Beer Week at the Craft House, featuring 10 barrel aged beers on their draft system. From old ales and stout to sour blonds and saisons, all styles are aged on a variety of spirits, including not only bourbon and whiskey barrels, but orange bitters, white wine, and red wine barrels, too.
If you come for a barrel aged beer, be sure to stick around and pair it with one of Craft House's many BBQ Menu options.
Hop Shoppe
With over 200 beers in their arsenal and their clever name, the Hop Shoppe is an excellent and obvious choice for a Beer Week celebration spot. The gastropub kicked off the Beer Week festivities by tapping Flagship's Wild Island earlier this week and will continue to serve the American Sour Ale all week long.
In addition to their extensive beer list, Hop Shoppe also has a variety of bar food to satisfy even the pickiest of palettes. To learn more, visit their website.
Liberty Tavern
Liberty Tavern has been known to host some of the best decade-themed dance parties and plays hosts to bands from all over the Island. But if boy bands aren't your thing, their beer and food menu are still worth checking out.
Liberty Tavern has sixteen beers on tap, including the Flagship Wild Island Sour Ale in honor of NYC Beer Week. The bar also boasts the "North Shore's Best Happy Hour," offering half price appetizers and Buy-One-Get-One on all drinks.
To learn more about Liberty Tavern, check out their website.
Randall Manor Tavern
If you're looking to enjoy a brew without having to deal with a bar atmosphere, look no further than the Randall Manor Tavern. The staff at Randall Manor promises "upscale pub fare in a warm, friendly setting."
You can enjoy a Wild Island Ale with one of their signature burgers, steaks, or bar pizzas. Be sure to check out their website for more information.
Adobe Blues
Beer enthusiasts travel from all over the world to enjoy a brew from Adobe Blues. This South-Western inspired bar/restaurant is known for having some of the rarest and exotic beers around. They're also known for serving up some of the best margaritas and Tex-Mex fare on the East Coast.
To check out their full menu and a list of upcoming live music acts, check out their website.
120 Bay Cafe
Loving referred to as "Cargo" by its loyal Island patrons, 120 Bay Cafe has been a North Shore Staple for nearly 25 years. The bar serves up delicious food, live music, and Staten Island made brews. Since it's just 2 blocks away from the ferry, it's an excellent Beer Week pre-game spot for those heading into the city for bigger brewing celebrations.
To learn more, visit their website.