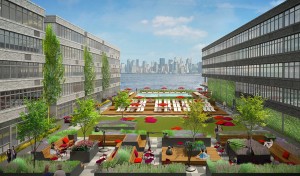 Why not move to Staten Island? Staten Island has new affordable developments. The Stapleton waterfront is about a 35 acre land right along the water. By 2015 studios, 1 and 2 bedrooms apartments are anticipated for rent on the old U.S. naval base The Homeport. The residential space will be minutes away from the Stapleton Staten Island Railroad station. The New Stapleton Waterfront development will participate in the new Leadership in Energy and Environmental Design for Neighborhood Development  which is a certification program administered by the U.S. Green Building Council. The location is ideal for commuting to Manhattan, only minutes away from the free Staten Island ferry.
"Tech Box" and "Launch Pad"  serves those beginning their own businesses. The stress of not having office space in a new city can be unbaring. Also located within minutes of Stapleton, these co working environments have been created to assist with people trying to begin on their own, Each will feature conference rooms, desk areas, secured wifi, and coffee to mention the least. The idea is to give the opportunity to get work done, not in a coffee shop or your home but a professional area, a community of co working. "Tech Box" will be open December 2014 and "Launch Pad" launched late Summer of 2014.
Used to going for a walk in the park after work? Staten Island has beautiful parks with nature zones blossoming along with its new residential developments and work opportunities. Giving Staten Island its history, the Alice Austen Park and Snug Harbor beautifies downtown Staten Island.  Beginning on Hylan Blvd,  dating back to the 17th century the Alice Austen Park has been preserved with its Victorian style mansion, once home to photographer Alice Austen. The land is over Buono Beach, which borders the New York bay illuminating a peaceful ambiance.  Sung Harbor is adjacent from a waterfront as well once being home to aged sailors hence its original name "Sailors' Snug Harbor". The park was opened to the public in the summer of 1976, keeping its original Greek revival 19th century style cottages. Both parks are apart of the National Historic Landmark District.
There's more reasons to move to Staten Island than beholds the eye. Within the next 10 years Staten Island's reputation will be reshaped. It will remain beautiful, with the right mix of urban suburbia. Developing better ways of transportation is planned to increase the economy allowing more  opportunities for existing and new residents.
Welcome to Staten Island!