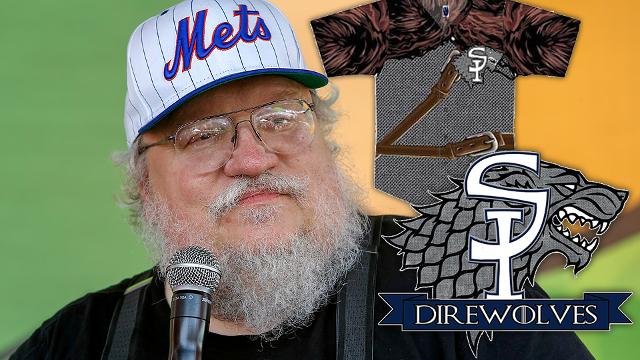 Staten Island is the real life Westeros, and we now know this for sure because "Game of Thrones" creator George R.R. Martin is making a trip here to catch one of our fabled Staten Island Yankees baseball matches. The author famously claims that the isle of Staten inspired him to dream up tales of dragons, when interviewed back in 2013.
"I come from a Blue Collar family, my father was a longshoreman. We lived in the projects on First Street in Bayonne, which has a deep water channel in front of it—the Kill Van Kull—connects New York Bay and Newark Bay and Staten Island across the way," explained Martin in an interview on TBS' Conan. "We never went anywhere. My world was five blocks long, I hardly ever got beyond those five blocks except in my imagination. I would sit in my living room windows looking out at the big ships going up and down the Kill Van Kull with all the flags of the different countries of the world. And the lights of Staten Island across the way—where we never even went—wondering what exotic mysteries and wonders lurked on Staten Island"
This Saurday, August 8th, Martin will get a first hand look at those wonders as he visits Richmond County Ballpark in St. George. Staten Islanders can thank SI Yanks marketing director, Mike Holley, for making the whole thing happen. He got the blessing of the team's opponent for the night, the Hudson Valley Renegades, as well as ironing out the details with HBO. Holley personally reached out to Martin about doing a signing at the ballpark. Martin said that it "sounds like fun" and was generally all about it. There was one caveat though, George R.R. Martin is a Mets fan, so the Yankees will be renamed the Direwolves (a game of thrones reference) for the night.
Fans attending the game will be able to meet author and creator of the hit HBO series "Game of Thrones." Martin will be in attendance to sign autographs as the Baby Bombers become the Staten Island Direwolves for the night, complete with a live wolf mascot at the ballpark.
The team will wear special jerseys to be auctioned off with proceeds going to the Wild Spirit Wolf Sanctuary.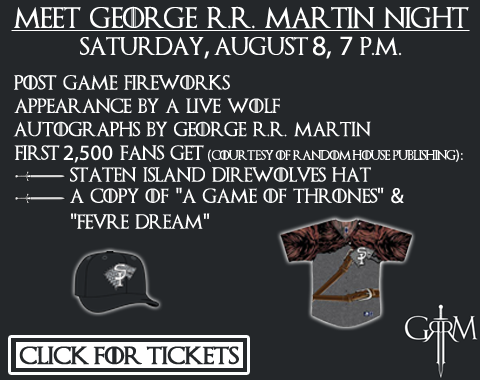 Written By Christopher Olivieri
Chris is the co-owner of NB Technologies, co-founder of Dog and Pony Show, video producer, freelance writer, internet coach, fire alarm inspector, former child model, and Photoshop guy. He's also a fan of pop-culture, proponent of awesomeness in the world, Mets fan, self improvement enthusiast, & ENTP.