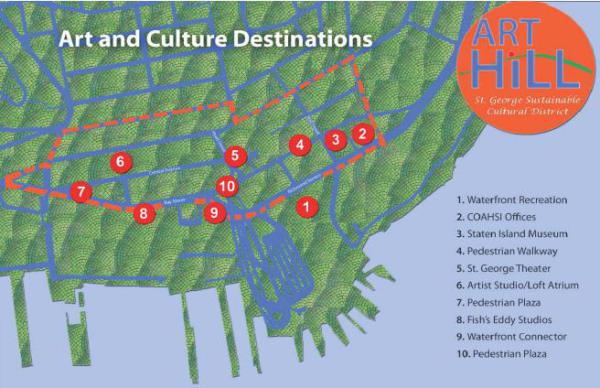 Below is a list of upcoming Craft Fair/Art Vendor opportunities for 2015-2016. As more events and market opportunities arise, thiswayonbay.com will be continuously adding and making any necessary changes.
I invite our readership to please keep us posted on the dates and details so we can share the info with everyone and keep this list updated. Hats off to Monica Valenzuela, acting Executive Director of SIARTS for creating the basis of this list.
There are some really amazing creative entrepreneurs on the island and we encourage you all to support them throughout the year – very important for our creative/local economy!
Upcoming Art Events on Staten Island!
Sat. May 30 – Staten Island Creative Community's Art by the Ferry
Various Locations, St. George
Contact: Linda Rossi -info@sicreative.org.
Sun. June 7 – Christ Church Fair
Christ Church New Brighton
Sun. June 7 – 48th Annual Art Exhibit at Conference House Park
South Shore Artists Group
Raindate: June 14th
End of Hylan Blvd, 11-5pm
For further information, call: SUSAN IPPOLITO, SHOW CHAIRPERSON:917-903-6456 ;
or BARBARA SEKULSKI: 917-690-0782.
Deadline to apply: May 19
June 20 – LUMEN Festival Vendors
Snug Harbor Cultural Center,;7pm-midnight
Specifically looking for light-based vendors (either in display or product).
Contact lumen@statenislandarts.org
Thurs and Fri. July 9 and; 10 – SI Arts Culture Lounge Summer Popup
Culture Lounge, SI Ferry Terminal, 11-7
​To showcase your work,please sign up here
Contact: Monica Valenzuela at mvalenzuela@statenislandarts.org
July 11 – LGBT Pride Fest
Snug Harbor Cultural
For more information on showcasing your work, please contact the lgbtcenter at 150 Bay St
Sept 5, 6 , 7 – Richmond County Fair
Waiting for confirmation about art and craft vendors
Sept 19 – Westerleigh Folk Festival
Contact Jim Indelicato at rnsx2jm@msn.com
October 3 – SI Museum Fence Show
Raindate October 4
Contact Donna Paganodpagano@statenislandmuseum.org
Thurs & Fri.& Oct 8 & and 9- SI Arts Culture Lounge Fall Popup
Culture Lounge, SI Ferry Terminal, 11-7
​To showcase your work, please sign up here
Contact: Monica Valenzuela at mvalenzuela@statenislandarts.org
Oct 10 &11 – Illuminate Stapleton
Various Locations, Stapleton/Tappen Park
Contact Christian Reinsch at tekstthc@gmail.com
Nov 27-29 – Alice Austen Arts and Crafts Fair
Contact Shiloh Aderholdshiloh@aliceausten.org
Early December – Noble Maritime Collection Culture Shop
Contact Dawn Daniels at dawndaniels@noblemaritime.org
Early December – Art Lab Holiday Market
Contact Lynnanne Daly at ldaly@artlabsi.org
Early December – Unitarian Holly Jolly Fair
Thurs and Fri.& Dec 10 &; 11: SI Arts Culture Lounge Holiday Popup
Culture Lounge, SI Ferry Terminal, 11-7
​To showcase your work, please sign up here
Contact: Monica Valenzuela at mvalenzuela@statenislandarts.org
SI Arts Culture Lounge ​Winter Popup
Culture Lounge, SI Ferry Terminal11-7
​To showcase your work,, please sign up here
Contact: Monica Valenzuela at mvalenzuela@statenislandarts.org
SI Arts Culture Lounge Spring Popup
Culture Lounge, SI Ferry Terminal, Thurs. And Fri. Tba from 11-7
​To showcase your work please sign up here
Contact: Monica Valenzuela at mvalenzuela@statenislandarts.org