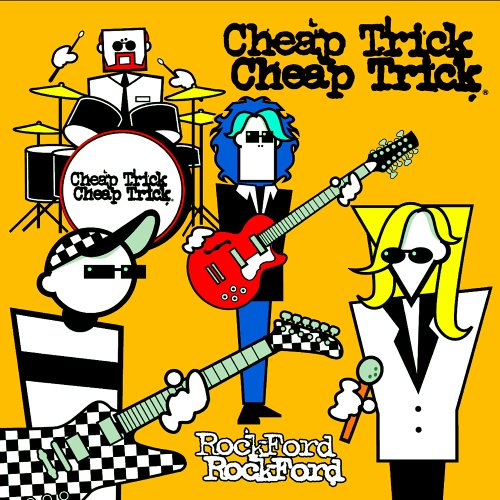 This Way on Bay designer, Rebecca, hails from Rockford Illinois where she grew up with members of Cheap Trick. Her favorite memories are Cheap Trick guitarist Rick Nielsen teaching her daughter Ashley guitar & their pot-luck dinners.
Rebecca & This Way on Bay welcomes Cheap Trick to downtown Staten Island and are excited to have Cheap Trick perform at the St George Theater on Friday September 25th. To purchase tickets, click here.
Cheap Trick was formed in 1973 in Rockford Illinois. Their were four original members Rick Nielsen, Robin Zander, Tom Petersson & Bun E. Carlo. Drummer Bun E. Carlo is not touring with the band replaced by Daxx Nielson, Rick's son. Cheap Trick is ranked No. 25 in VH1's's list of the 100 Greatest Artists of Hard Rock. Their hit singles include, "Surrender" "I Want you to Want Me" "The Flame" "Dream Police" & "She's Tight" to name a few.
Cheap Trick is known for their four decades of almost continuous touring. They have performed more than 5,000 times in dozens of countries and have toured with some of Rock n Roll greats Aerosmith, Boston, Peter Frampton, Stone Temple Pilots, Foo Fighters & many more.
Written By Ettore
Ettore grew up working in the restaurant & catering business from the age of 12. He graduated from the College of Staten Island with a Bachelors's in Mathematics & Finance in 1985. In 1986 he started Chez Vous caterers from the basement of his home in Dongan Hills and caters parties at homes and businesses in the tri-state area. In Oct 1987 he rented the first floor of Edgewater Hall at 691 Bay Street. A few years later he added the party rental division to Chez Vous. In 1998 he purchased Edgewater Hall and renovated the first and second floors making them party spaces. Shortly thereafter he purchased from his tenant the cellar bar creating Dock Street Underground a live music venue. His creative projects include his CD Sweet on You, his book, It's Your Right to be Fit, Sexed, and Happy, So Claim It, and he is developing a TV series called Business Underground. His record labels Hanz On Music and Dock Street Records has produced Method Man's "The Meth Lab." and produces 2nd Generation Wu projects.