This Saturday, September 10th from 2pm to 8pm, NYC Arts Cypher is hosting "Cypher Fest." This first annual art festival consists of both international and local artists working towards a common goal, beautifying the neighborhood. This first annual fest boasts the talents of world-renowned street artists such as Jorit Agoch, Crisp, & Sipros, as well as local talents like Terry and Caster.  Food & beverages will be served at the event, along with entertainment from DJ XCEL in and outside of the Arts Cypher.
Passersby have probably noticed the bright and colorful murals that have been popping up from the area around the intersection of Union Place and Bay Street all the way to Broad Street.
One of the artists headlining the fest, Italian-born Jorit Agoch who specializes in hyper-realistic murals, is one of the world's finest street artists. Staten Island is just the latest stop on Agoch's journey. The artist travels the world with his girlfriend and artist Leticia Mandragora beautifying cities with their art. His contribution is a portrait of DJ Fussyman, Staten Island's resident prodigy DJ, who already has a White House event on his already storied resume (as well as regular appearances at the Arts Cypher.)
We were able to speak to Jorit about his work:
TWOB: When did you start creating street art?
Jorit: At age 13 in my hometown of Naples Italy I starting tagging my name. I then starting creating caricatures and then real life portraits.
TWOB: Why do you choose to paint realistic human face portraits?
Jorit: The face tells the most about a person's emotions and I want to capture those emotions. My aim is to portray my subjects as close as possible to reality. I want to capture humanity.
TWOB: How do you choose your subjects?
Jorit: I want my portraits to express a message. I pick subjects that are not so lucky, that live in difficult situations.
TWOB: Why do you add tribal markings to all your subjects?
Jorit: In 2005 I was invited to Africa to paint and their different tribes had varied tribal markings that told what tribe they were from. I mark my portraits with tribal markings because we are all one tribe, the human tribe.
Along with showing off the interesting and varied pieces, the event hopes to accomplish a lot.  Charlie Balducci, NYC Arts Cypher's President and Founder, aims to highlight the organizations Pillz Killz and Anti-Bullying campaigns, to make locals aware of their Mural Program, and to introduce New Yorkers to the talent and vitality of Staten Island.
Below, see a gallery of images we shot earlier this week, including some featuring Jorit in action creating his Cypher Fest portrait:
The official flyer for the event can be found below: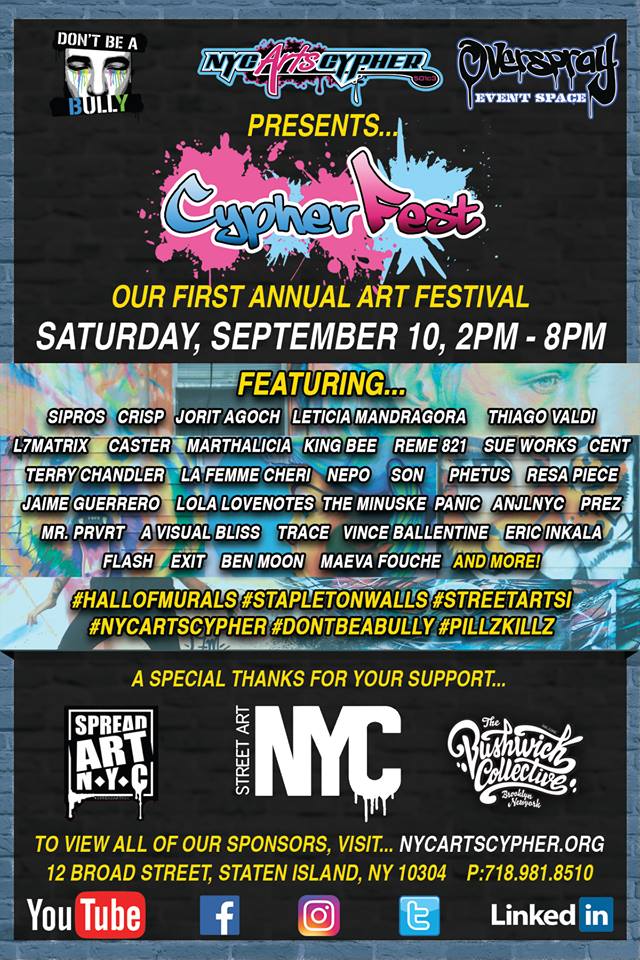 Like the NYC Arts Cypher on Facebook,

here
NYC Arts Cypher Founder, Charlie B, Spoke to StreetArtNYC.com about the event,

here
Written By Christopher Olivieri
Chris is a communications professional with a passion for pop culture, media, and all things creative. He has a Bachelor's degree in Communications with a specialization in Media Studies and has experience in running a pop-culture website, freelance writing, coaching, and speaking engagements. He has worked behind the scenes on music albums and co-founded a boutique web design and marketing firm. He is also an amateur photographer and musician. He is always looking for the next exciting project to dive into.