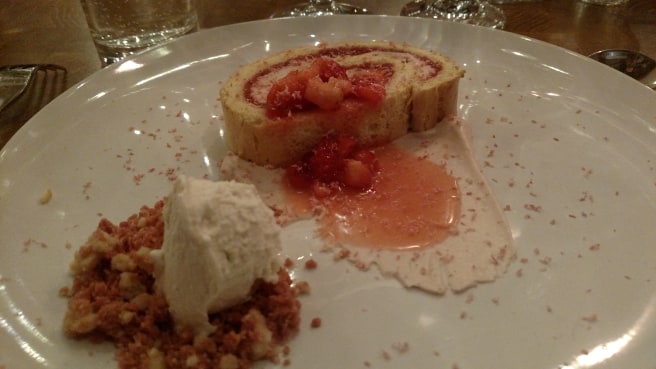 Last month, Sammi Sweetz, of Sammi Sweetz desert shop, and Vincent Buzzetta, of the Cake Artistry of Staten Island, teamed up to present a one-of-a-kind Dessert & Wine tasting at URBY.
The event consisted of four courses, including:
Assorted petit fours including raspberry caramels, blueberry cheesecake bonbon, lemon spoon, and banana crème brûlée
Strawberry shortcake roll with chiffon cake, Valrhona strawberry inspiration whip, strawberry confit, shortcake crumble, and vanilla bean ice cream
Tropical bar with lime struesel, coconut dacquoise, coconut whipped ganache, passion fruit cremeux and sauce
Liquid caramel chocolate decadence with crunchy chocolate sponge, chocolate caramel cremeux, salted liquid caramel, and vanilla bean whipped ganache
With each dish paired with a different wine, from flavorful & fruity Rose' to intriguingly smokey fare, each plate was paired with something special to get the table talking.
Desserts like the strawberry Shortcake Roll and Tropical Bar had a rich tang to them that complimented the sweetness. While a dessert like the Liquid Caramel Chocolate Decadence was exactly as indulgent as the name would imply.
While these kinds of events have been fairly common at URBY and will continue in the future, there have been talks of expanding these dessert tastings to other areas of Staten Island.
But you won't know where these events will pop up next unless you go and follow Sammi Sweetz & Vincent Buzzetta over on their social media accounts.
Check out a gallery of some of the delicious desserts they had on-offer, below.
This slideshow requires JavaScript.