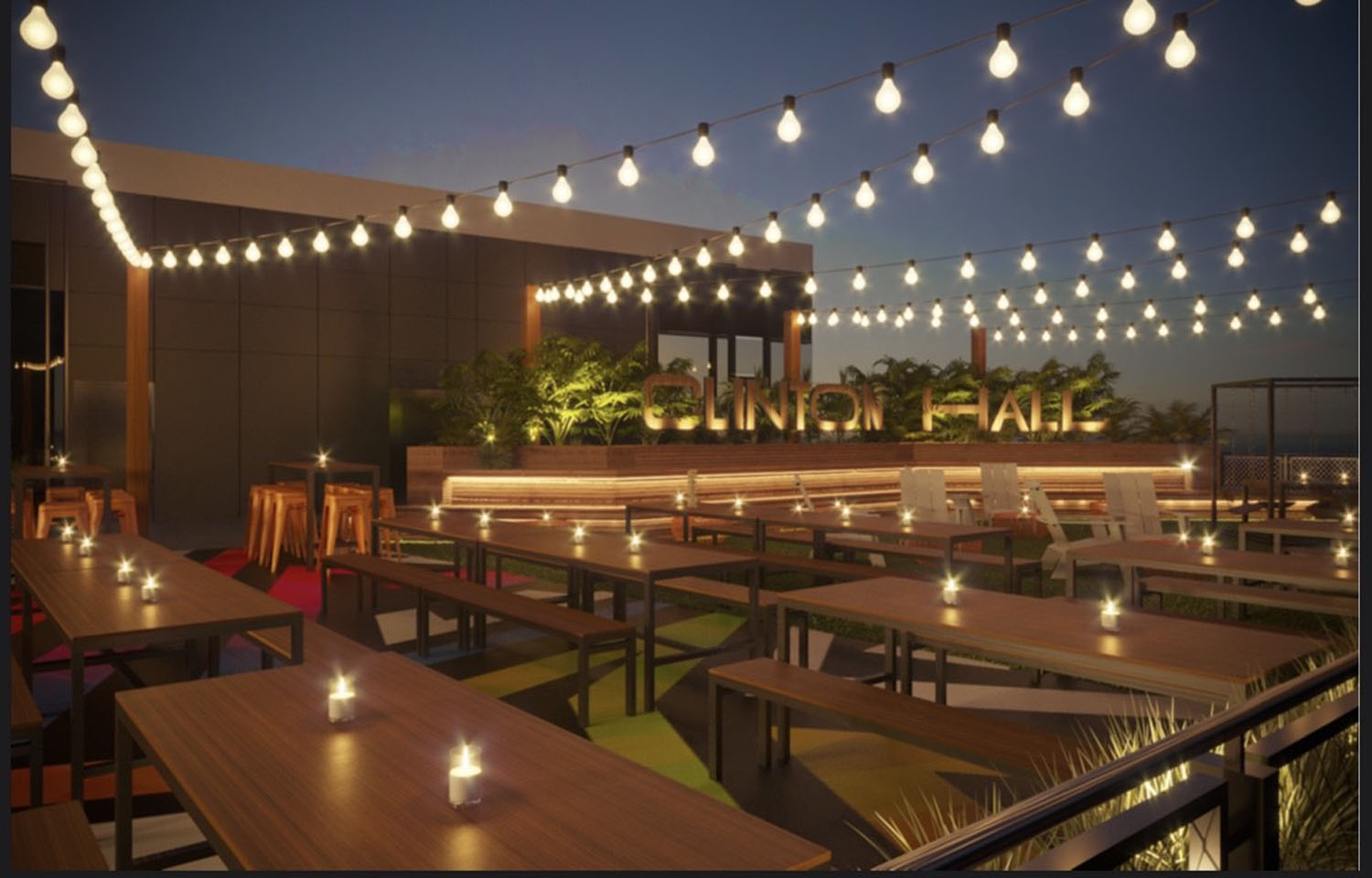 The acclaimed Clinton Hall has opened their 6th location in NYC and first location on Staten Island, on the fourth floor of Empire Outlets (55 Richmond Terrace Staten Island, NY 10301) just in time for summer. After a soft opening on July 2nd, 2021, the restaurant is now open! The perennially popular super craft beer hall is toasting its debut in Staten Island each weekend by opening it's outdoors to the public from 3 pm – 10 pm, Friday – Sunday. In addition to serving up Supercraft beer selections, wine, and cocktails, they'll also have a can't miss Shell Shack Summer Lobster Roll on their menu from Executive Chef Darryl Harmon with more seasonal bites on the way in the coming weeks.
The beer garden is located in the heart of Empire Outlet and will have the ability to host 500 to 600 people within its lounge spaces. It also will offer people the opportunity to rent out sections of the space for private or semi-private events. Clinton Hall already has locations in the Bronx, Brooklyn, and Manhattan. The Popular Beer Hall will Offer Visitors Seasonal Craft Beer, Award-Winning Burgers, and Interactive Games. Clinton Hall offers an exquisite spin on traditional beer hall cuisines, such as their Fondue Burger, Doughnut Grilled Cheese, and their 2018 Food Network award-winning, Double Smashed Burger.
Visitors should look forward to enjoying a variety of live entertainment and interactive complimentary games that includes oversize versions of favorites such as Jenga, Connect 4, Chess, and a variety of table games such as Uno, Cards Against Humanity, and more. 
In 2013 Clinton Hall opened its first location in the Financial District and in just two years, has expanded to five New York locations. Creator Telly Hatzigeorgiou has an ardent mission, "I want to pull people away from their desks, their screens, and devices and bring back human interaction. Our recipe is shared dishes, communal tables, awesome hard-to-get beers, and fun games with group participation. After a visit to Clinton Hall, you may likely leave having made new friends."
"While Empire Outlets has been temporarily closed to be in accordance with the mandate from New York State and our elected and health officials, we are looking forward to reopening and welcoming our guests back to our waterfront destination," said Joseph Ferrara, principal of BFC Partners and developer of Empire Outlets.
Empire Outlets' main mission isn't only to attract tourists but to keep these ferry riders on Staten island. With the Outlet finally here and expanding, there's so much to do now, from shopping to now satisfying your appetite with a Clinton Hall Beer and Burger.
For more information, visit EmpireOutlets.nyc & ClintonHallNY.com