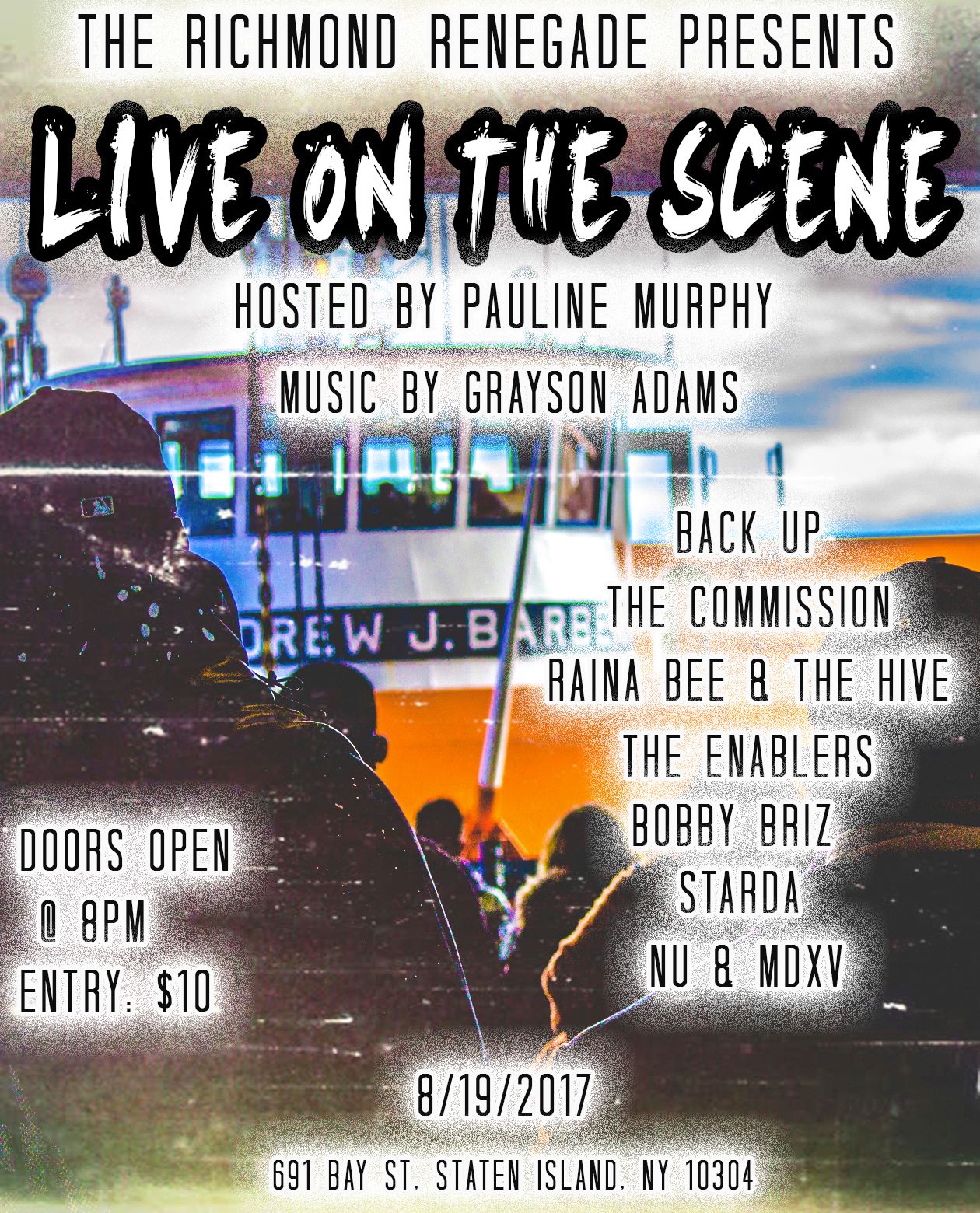 Staten Island has the reputation of being undervalued and underloved. Live on the Scene, hosted by the Richmond Renegade on Saturday, August 19 from 8 PM to 2 AM at Amendment 18 (691 Bay Street, Staten Island, NY 10304), is a music scene event designed to combat this established notion and show some love to the art scene on Staten Island. The Richmond Renegade is a collective that aims to support and embrace the creativity, culture, and community and unify Shaolin lovers.
What is Live on the Scene? According to event curator Jahtiek Long,
"My intention was to create a show that was not only super dope and what I think is a high quality of talent on one stage, but most importantly shows a representation of the Staten Island creative scene, diverse. Everyone on the line up is a part of our local culture. It's important to build each other up, rather [than] destroy, more productive."
In the past, Renegade hosted From Staten with Love, another event by Valentine's Day of this year with the same intention, and The 90's vs 00's Kickback more recently on June 29th. The Richmond Renegade is set on joining not only like-minded individuals but bringing together a diverse set of thinkers who can help Staten Island grow as a borough. They aim to showcase the talent of the scene and bring people together through various events. Musicians, photographers, illustrators, filmmakers, artists, web designers were those in attendance at Love. Live performances included local musicians such as Strada, Gabrielle Shlyakh, Drew Cole, Whiskey Burrito and Joe Rice to name a few. Art presentations were also held by Harry Magzul, Stephanie Kosinski, Nick Cruz, curator Jahtiek Long, Gina T Photography, Raul Barquet, Patti Kelly, La Femme Cheri and Nikki Bacas.
Live on the Scene will feature similar talent with a focus on hip-hop and rock music, the best of both worlds. The night will be hosted by Pauline Murphy. Confirmed artists to perform include Grayson Adams, Back Up, The Commission, Raina Bee & The Hive, The Enablers, Bobby Briz, Starda and NU & MDXV.
If you love Staten Island, this is a night you will not want to miss.
Check out the official Facebook invite for the event, here.
Written By Nicole Oliva
Founder of the Gaff Blog and graduate from CCNY, I'm a woman and artist striving to burst out of this bubble, have fun and be the most authentic person I can be. We can all help each other out, whether through words or physical actions.