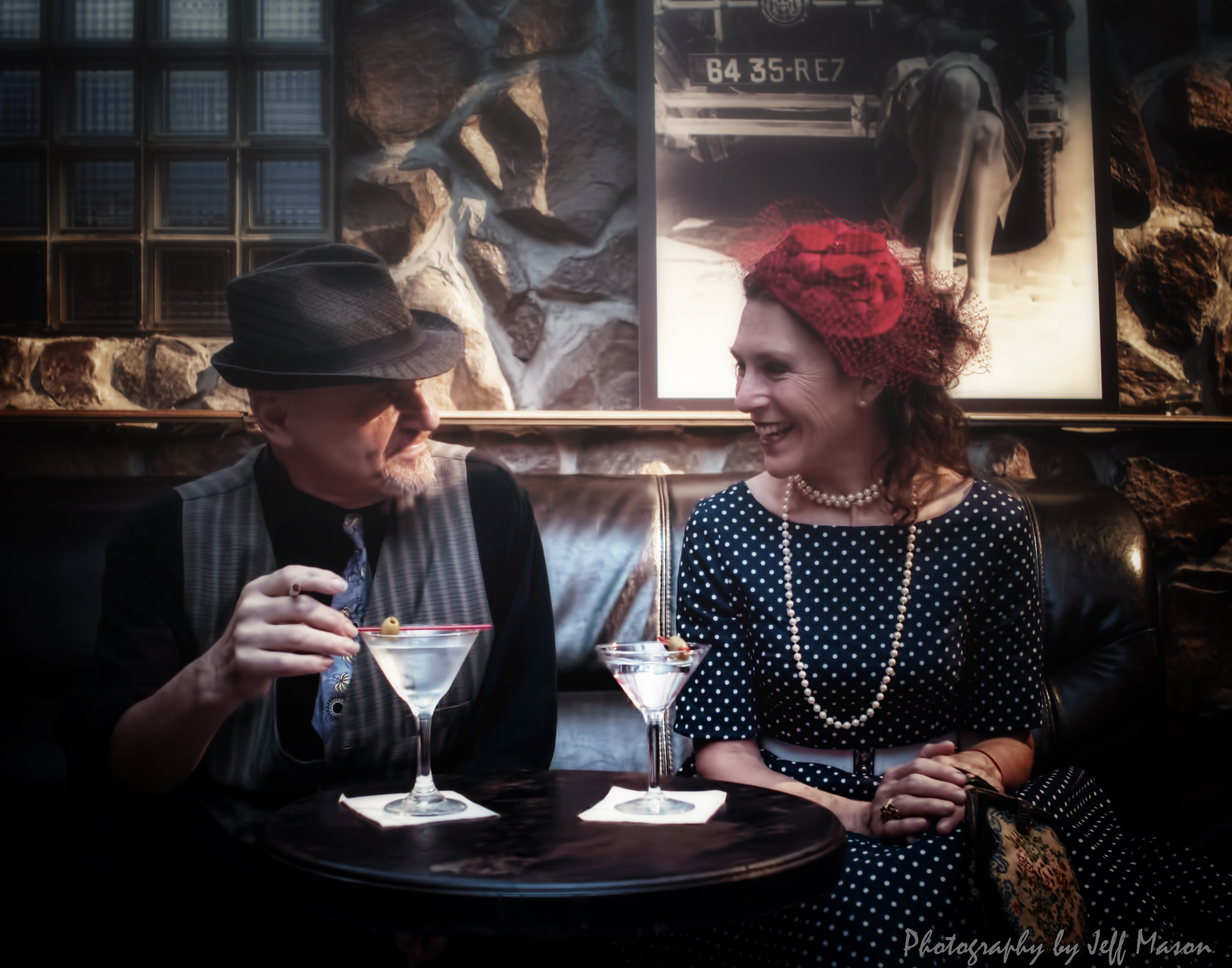 While sipping on a cocktail at Amendment 18, Vivian Vassar had an idea…. Wouldn't her Hey Viv ! a line of vintage inspired clothing be the perfect fit for this bar's Speakeasy vibe? So she enlisted photographer Jeff Mason and two cool Jazz singers right off the Amendment 18 stage and pitched the idea of a photo shoot. The period lighting, polished wood and glass bar, and brick walls make just the right backdrop for the retro style dresses and pencil skirts that both Leanne Surace and Nancy Corrigan wear so well on stage when singing at Jazz or Blues Night. Vivian then added musician Vincent Vok to the scene for an extra touch of tough guy charm.
Step back in time when you walk down the stairs and enter the dim light of Amendment 18. Are you there for an assignation? meeting your best guy for a night of passionate music, or just getting together with the gang for a quick snort. This photo shoot aims to bring these scenes to life in the speakeasy world.
Thanks to Dan Chanod at Amendment 18 for creating the mood, Jeff Mason for capturing those fleeting moments, Leanne Surace, Nancy Corrigan, and Vince Jeff Mason nt Vok for living the scenes, and Vivian Vassar for providing the style and fashions from Hey Viv ! Retro Clothing.
*Photography by Jeff Mason
*Clothing by Hey Viv ! Retro Clothing
*Location – Amendment 18 Bar & Grill
Models:
Leanne Surace
Nancy Corrigan
Vincent Vok
Written By Ettore
Ettore grew up working in the restaurant & catering business from the age of 12. He graduated from the College of Staten Island with a Bachelors's in Mathematics & Finance in 1985. In 1986 he started Chez Vous caterers from the basement of his home in Dongan Hills and caters parties at homes and businesses in the tri-state area. In Oct 1987 he rented the first floor of Edgewater Hall at 691 Bay Street. A few years later he added the party rental division to Chez Vous. In 1998 he purchased Edgewater Hall and renovated the first and second floors making them party spaces. Shortly thereafter he purchased from his tenant the cellar bar creating Dock Street Underground a live music venue. His creative projects include his CD Sweet on You, his book, It's Your Right to be Fit, Sexed, and Happy, So Claim It, and he is developing a TV series called Business Underground. His record labels Hanz On Music and Dock Street Records has produced Method Man's "The Meth Lab." and produces 2nd Generation Wu projects.