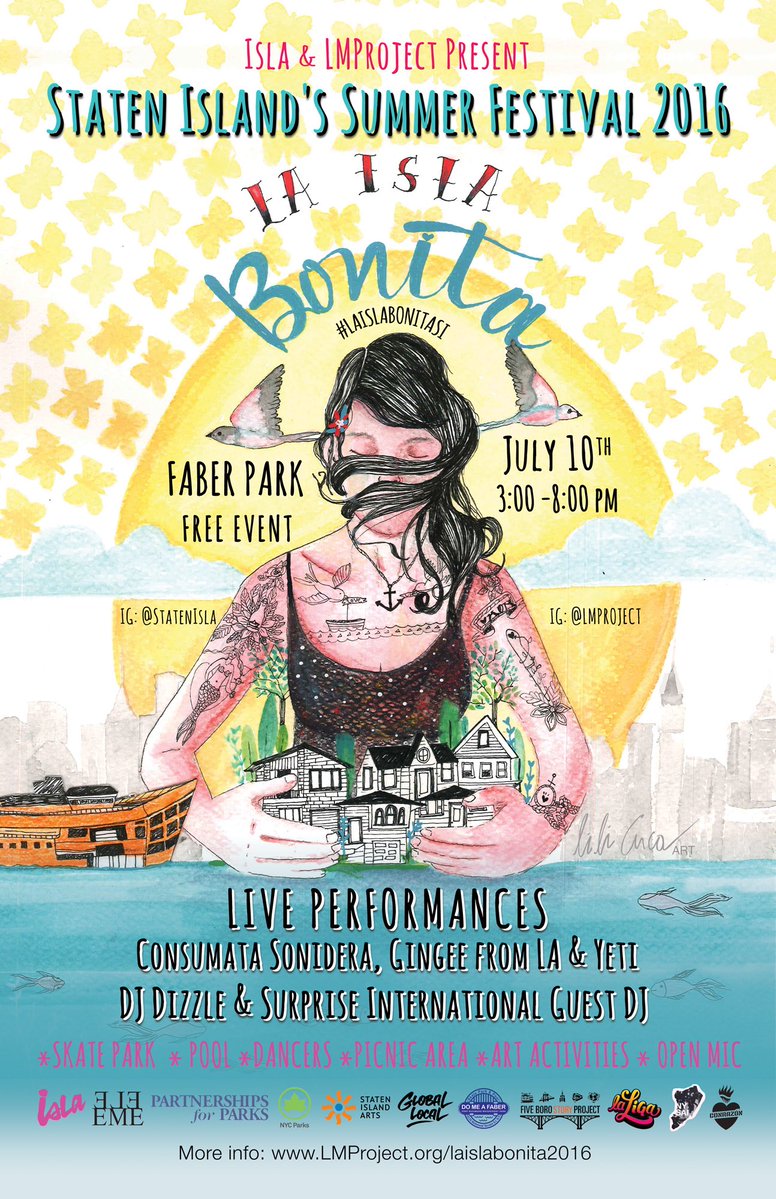 Staten Island's North Shore has grown considerably in the past ten years. The culture, growth and art that has been added to the scene has added a New York City element of liveliness to the community. This year Staten Island's Faber Park will be hosting La Isla Bonita Summer Festival 2016. It will take place on July 10 from 3:00 – 8:00pm.
Better yet, the event is free. The venue will include live performances by:
Consumata Sonidera
Gingi from LA
Yeti DJ Dizzle
and DJ Gigue from Cuba. 
Other activities include:  Art & Activities | Yoga | Dancers | Djs | Pool | Skate Park | Community | Summer Fun.
Faber Park will be open as well for picnic baskets & blankets, chairs, as well as activities like a zine-making by NYC-based La Liga Zine, a special "Make a Rhyme Book" station by local emcee Nani Castle who won a grant from Staten Island Arts to promote youth self-expression through rhyme books. NYSAI Press and Five Boro Story Project will host a story-circle and community open mic. IslandVoice will host a chess table. "Be Easy Yoga" will also be hosting a FREE yoga class. Tabling from organizations like Staten Island against racism and police brutality and more to be announced!
The event, La Isla Bonita, originated in 2014:
"La Isla Bonita" was born as a series of public art developed by Colombian-born, Staten Island-based artist Lina Montoya under the LMProject. In June 2014, the first piece of this series was installed at Richmond Terrace and Jewett Ave called "Mariposas Amarillas" – 18,000 yellow butterflies along the Terrace to represent migration as a symbol of a community's evolution. The series aims to transform public spaces around the Island by involving community members in the process and continues to exist, with more than 10 pieces on display throughout the North Shore of Staten Island.
I will be attending the event and I suggest you do the same. Check it out! Staten Island is becoming what we all have worked and envisioned it to become, a place of diversity and culture. Come and be a part of the transformation!
La Isla Bonita Summer Festival 2016 | Faber Park [map] | July 10th | 3:00pm to 8:00pm | FREE ADMISSION
Keep Updated With Additions & Changes To The Event,

here
See the official event invitation on Facebook, here
Follow Staten Isla on Twitter,

here
Written By Kristin Pitanza
Kristin Pitanza is an adjunct lecturer at the College of Staten Island and Saint John's University in which she teaches writing and education. Her dedication lies with her writing and her students. She facilitates a program through Saint John's University titled $30,000 degrees in which she helps high school students achieve a four year college career path. She is a native Staten Islander and likes writing about her hometown. Kristin also takes a large interest in adolescent development and literacy while helping students develop writing skills through the scaffolding of grammar to written text. She has helped develop department wide curriculum for her writing courses at the college. She has a Masters Degree from the Teachers College at Columbia University.