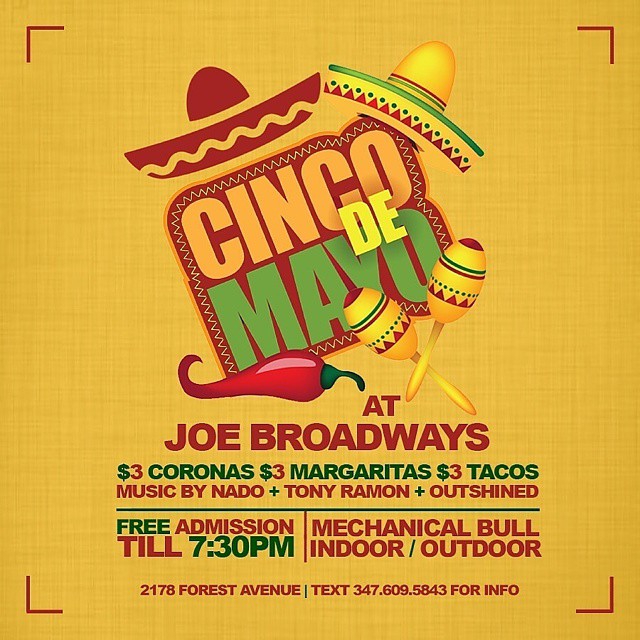 This Way on Bay's Event Coordinator John Joseph  is hosting one Staten Island's most exciting Cinco de Mayo parties of 2015. The indoor/outdoor event, which takes place at Joe Broadway's on Forest Avenue,  complete with specials on margaritas, tacos, and coronas, as well as a mechanical bull for patrons to test their abilities as a cowboy.
This event follows on the heels of Fifth Borough Media's successful fight night party, for last weekend's Pacquiao vs. Mayweather rumble.
The Cinco de Mayo event will feature live Music by ‪Outshined‬ with DJs Tony Ramon, Nado and More.
Admission is free until 7:30pm. Call or text John Joseph for more info 347.609.5843
Joe Broadways
2178 Forest Avenue, Staten Island NY 10303 [map]
Written By Christopher Olivieri
Chris is a communications professional with a passion for pop culture, media, and all things creative. He has a Bachelor's degree in Communications with a specialization in Media Studies and has experience in running a pop-culture website, freelance writing, coaching, and speaking engagements. He has worked behind the scenes on music albums and co-founded a boutique web design and marketing firm. He is also an amateur photographer and musician. He is always looking for the next exciting project to dive into.