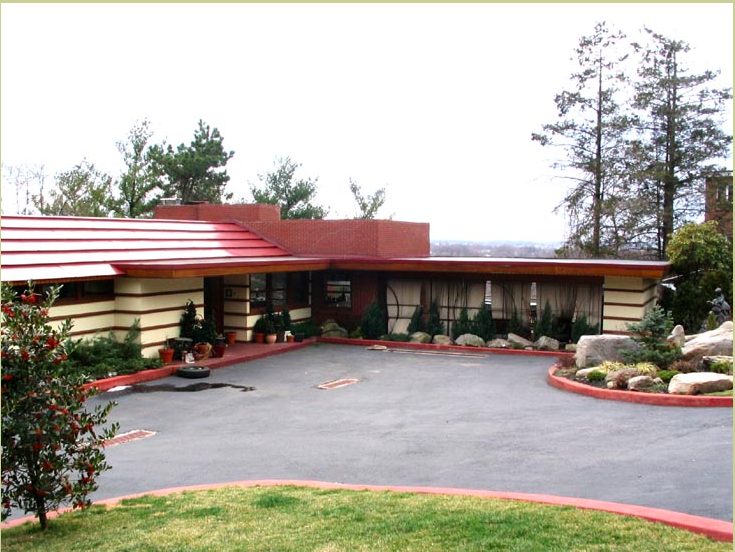 In addition to the Tibetan Museum and the Light House on the exclusive and highly desirable section of Staten Island known as Light House Hill; there is also a residential and highly aesthetic home designed by the one and only, Frank Lloyd Wright. For those unfamiliar with his work, Wright is one of the most renowned architects of the twentieth century. His works include museums (like the Guggenheim Museum), houses, buildings and offices all over the world. Not only is he an established architect but is also a writer and supporter of the arts.
Named 'The Crimson Beech' or 'The Cass House', the structure on Manor Court is the only residence designed by Wright in New York City. It was owned by Catherine and William Cass until it was then sold to another family privately in 1999.  It was manufactured by Marshall Erdman "in kit form from Madison, Wisconsin and erected in Staten Island in 1959". It is one of eleven Marshall Edman Prefab Houses in the United States. If one gets the opportunity to visit its bucolic and serene vista, the gander is worth your time. The building, which was declared a landmark in 1990, is one of Staten Island's best kept secrets.
See more photos of 'The Crimson Beech', here
Find more Frank Lloyd Wright sites in NY State,

here
Written By Kristin Pitanza
Kristin Pitanza is an adjunct lecturer at the College of Staten Island and Saint John's University in which she teaches writing and education. Her dedication lies with her writing and her students. She facilitates a program through Saint John's University titled $30,000 degrees in which she helps high school students achieve a four year college career path. She is a native Staten Islander and likes writing about her hometown. Kristin also takes a large interest in adolescent development and literacy while helping students develop writing skills through the scaffolding of grammar to written text. She has helped develop department wide curriculum for her writing courses at the college. She has a Masters Degree from the Teachers College at Columbia University.