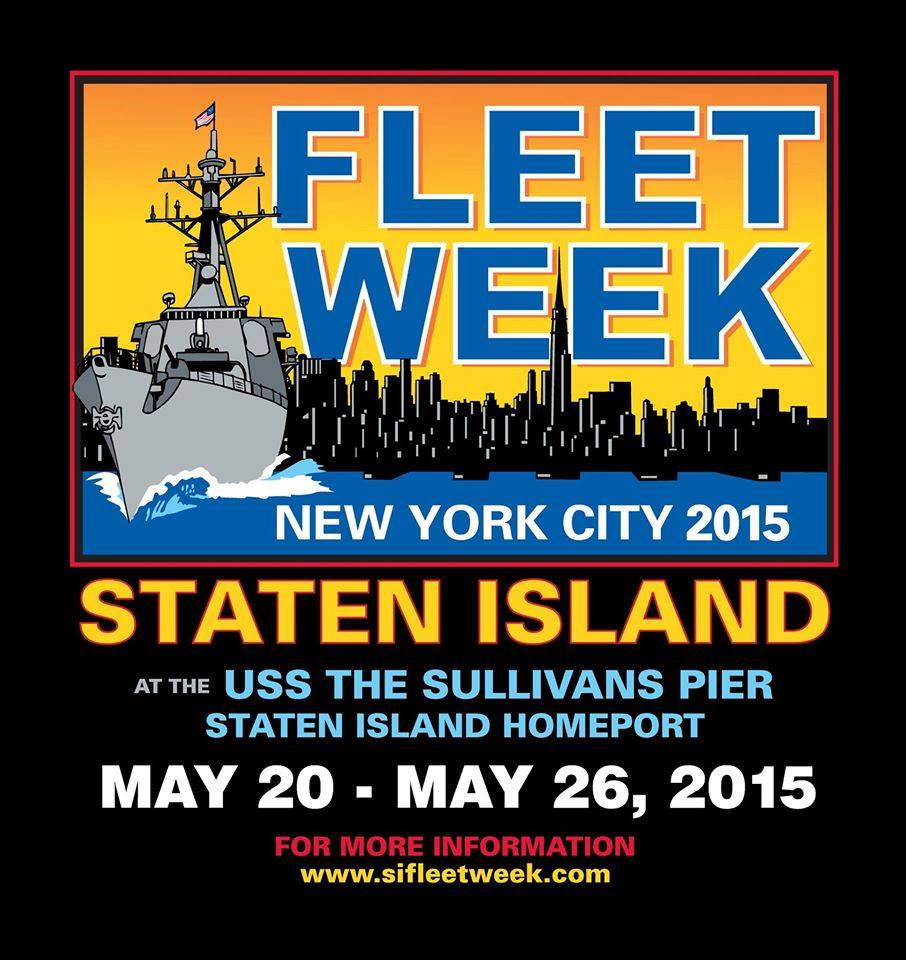 One events that makes Staten Islanders proud is Fleet Week and this year Fleet Week New York Music Festival comes smack dab in the middle of the celebrations on Sunday, May 24, from noon to 8 p.m. at the Flagship Brewery on 40 Minthorne Street. Donna Cutugno & her team has been making Fleetweek an event Staten Islanders are proud of for over 25 years.
The Music Festival will include shows from local faves such as Tom Cintula and the Buffalo 24, The Seconds, Pussywolf, Joan Caddell and the Midnight Choir, The Silas Knight Project, Tony Rodriguez, and the official U.S. Navy Band Northeast Rhode Island Sound.
Flagship will be offering complimentary food and drinks to the visiting military here from Fleet New York. They will also sell patrons food, beer and beverages, including two of the newest Flagship beers: Flagship IPA and Pastime Summer Ale, in addition to their usual selection of lagers, ales and wheat beers.
Fleet Week 2015 is a week long  special event during the Memorial Day weekend ending on Tuesday May 26 and that means that there are all sorts of cool fleet week events for the people of Staten Island. Not only can you get on board a genuine Navy ship, but you can also rock out with the troops at a number of events taking place all weekend.
Here's how the official Facebook page for the event described Fleet Week:
Staten Island Fleet Week was established in 1990 while the Stapleton Homeport was an active U.S. Naval Base. The organization was incorporated as a 501(c)(3) organization in 1999. At it's inception we started as a community based "Adopt-A-Sailor" program, which enabled local families to adopt crew-members for the day and treat them to either a home cooked meal, or visit the sites of New York City.

An all volunteer board and staff enable the group to fulfill our mission to provide recreation, morale and support the welfare of the visiting crew-members to the New York City area. To date, more than 160 military ships have visited the Homeport site since 2000. Fleet Week '06 brought in excess of 38,000 visitors to the event, not including the 1,500 crew-members and their families. Fleet Week is an annual event which takes place each year during the Memorial Day holiday.
The ships participating on tours are the USS Barry – (DDG-52), the USS Stout – (DDG-55), and the USCG Stugeon Bay (WTGB-109). All three will be docked at the Sullivan Pier off Stapleton (305 Front Street, Staten Island, NY 10304 [map])
Like Staten Island Fleet Week on Facebook, here.
Written By Christopher Olivieri
Chris is a communications professional with a passion for pop culture, media, and all things creative. He has a Bachelor's degree in Communications with a specialization in Media Studies and has experience in running a pop-culture website, freelance writing, coaching, and speaking engagements. He has worked behind the scenes on music albums and co-founded a boutique web design and marketing firm. He is also an amateur photographer and musician. He is always looking for the next exciting project to dive into.