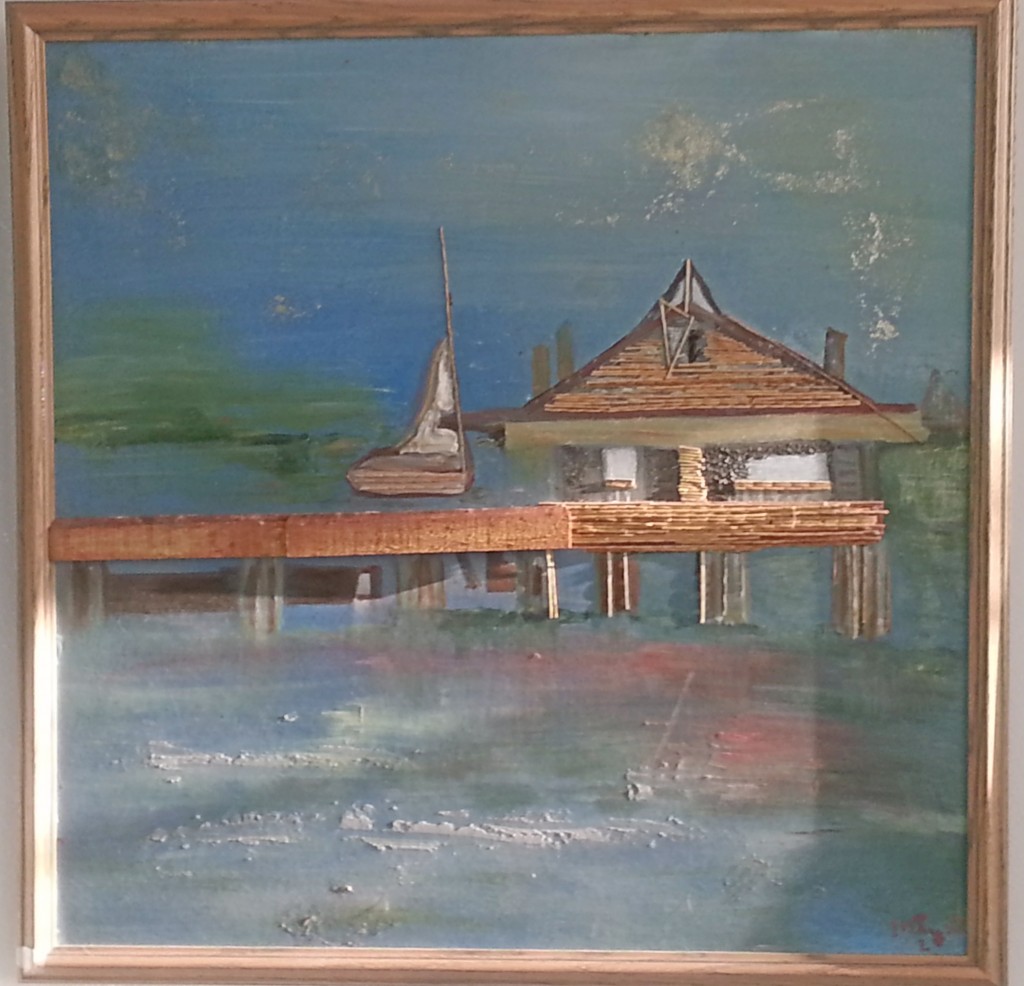 Seaside Collage, Elaine Mendez, 24×24 Mixed Media
You might have heard that we're hosting our third This Way on Bay this Thursday afternoon at Santander Bank in Stapleton. One of the highlights of that event will be the presence of four talented Staten Island artists who we'd like to introduce you to below:
Erinkelli Killbane
"I am increasingly more attentive to the concurrence between two sets of ideas: the duality of plans and the chaos that befalls them, along with the potential kinetic tension and depiction of movement embodied in an immobile entity. My work is the compilation and physical manifestation of a conversation with and about myself amidst my ideas, plans, awareness, perception, tangibility and the canvas. The actual painting process is my discovery of relationships amongst the controllable and uncontrollable. The resolution is ultimately indebted to how spontaneity of the moment effects my emotive expression, despite a predetermined strategy. Thus, a work could be ever changing based on my actions and the consequent reactions."
Visit her on Facebook, here.
Douglass Latourette
"I have always been fascinated by found objects and looked to highlight the beauty in simple things in an aesthetic fashion. I also enjoy collaborating with other artists and craftspersons, like MakerSpace, to explore new ways to bring my art to life." says Douglas. Often referred to as a conceptual artist, Douglas has a profound admiration for the works of french artist Marcel Duchamp.
Visit him on Facebook, here.
Elaine Mendez
Elaine Mendez is a local artist living on Staten Island for over 16 years. Her ceramics and collages are interpretive pieces based on everyday life. She is a writer here on This Way on Bay, is a founding member of Labyrinth Arts Collective, Inc. and runs an independent arts enterprise. SiLiveArts, Inc. She is also the organizer of Swan Day Staten Island, a yearly event honoring local female artists every March.
See her TWOB archive, here.
Altair
Altair aka David Karave is a sculpture and film artist. His artworks combine cinema, robotics and pyrotechnics within one experience. His film and art company, Altair FX, has created large scale video and art pieces in NYC and Austin, for entities such as A&E, Google Inc., Burning Man and the Bonarroo Festival. Most recently, Altair and his crew of 24 artists created an epic twenty five foot tall interactive mechanical head. Passersby could experience this interactive sculpture by entering into the house-like space inside the head, and then animating the giant eyes and mouth with various mechanical contraptions, all from within. The changing expressions on the face could be seen from miles away. 'Kinetic Child' was featured on A&E TV and exhibited as official art at the Burning Man Festival. The subject of Altair's art includes themes of social relativity, absurdism, freedom, objectification, and the struggle for human autonomy.
Written By Ettore
Ettore grew up working in the restaurant & catering business from the age of 12. He graduated from the College of Staten Island with a Bachelors's in Mathematics & Finance in 1985. In 1986 he started Chez Vous caterers from the basement of his home in Dongan Hills and caters parties at homes and businesses in the tri-state area. In Oct 1987 he rented the first floor of Edgewater Hall at 691 Bay Street. A few years later he added the party rental division to Chez Vous. In 1998 he purchased Edgewater Hall and renovated the first and second floors making them party spaces. Shortly thereafter he purchased from his tenant the cellar bar creating Dock Street Underground a live music venue. His creative projects include his CD Sweet on You, his book, It's Your Right to be Fit, Sexed, and Happy, So Claim It, and he is developing a TV series called Business Underground. His record labels Hanz On Music and Dock Street Records has produced Method Man's "The Meth Lab." and produces 2nd Generation Wu projects.