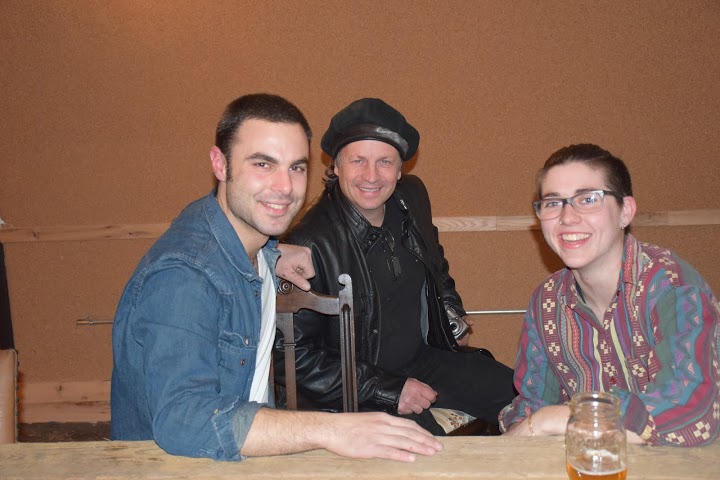 This past Friday, L.Adrian Wilton & Aaron Lenza opened the Office at 76 Bay. At their Grand Opening, I had a chance to chat with Adrian & Adam about their plans for the collaborative work space on the 2nd floor at 76 Bay & their backyard garden. The office is now open for membership and will be rented and shared with members that are starting new businesses or expanding from a home based business. The space has WiFi, kitchen, private offices & conference space. They also plan to grow fresh vegetables in the 3000 square foot garden that is part of their business at 76 Bay Street.
Aaron, is a 2nd generation contractor whose talent was evident in the craftsmanship of the newly built space. The eclectic tin ceiling was built from 2 x 2 tin recycled from the scrap yard. He shared his enthusiasm for using reclaimed materials. The tables in the common space were made from reclaimed 2 x 6 timbers from his families home & leftover laminate I Beams topped with utility grade oak flooring.
Adrian talked about plans for the garden that included growing leafy vegetables because they do not transport well & locally grown means higher nutritional value as foods loses nutrient content in transit. Organic foods grown in naturally fertile soil using sustainable growing techniques produce higher vitamin and mineral content. And of course it cuts back tremendously on Bay Street carbon footprint.
On hand at the grand opening and preparing the hors d'oeuvres was 2nd generation restaurateur Jeremy Pappalardo, partner at Pier 76 on the first floor who shared his excitement about using the gardens fresh produce and making seasonal pizza's & organic menu.  When the garden is ready in the Spring, he will use the Swiss Chard, Arugula, Kale & Tomatoes among other freshly grown produce.
76 Bay joins other North Shore healthy local food initiatives to include Sung Harbors Heritage Farm, St George Greenmarket and the Living Roof at the SI Ferry which was recently re purposed by Adrian's start up Living Restoration.
The Office at 76 Bay, 76 Bay Street 2nd floor visit their facebook page, here
Pier 76, 76 Bay Street 1st floor (718) 447 7437 visit their website, here
Written By Ettore
Ettore grew up working in the restaurant & catering business from the age of 12. He graduated from the College of Staten Island with a Bachelors's in Mathematics & Finance in 1985. In 1986 he started Chez Vous caterers from the basement of his home in Dongan Hills and caters parties at homes and businesses in the tri-state area. In Oct 1987 he rented the first floor of Edgewater Hall at 691 Bay Street. A few years later he added the party rental division to Chez Vous. In 1998 he purchased Edgewater Hall and renovated the first and second floors making them party spaces. Shortly thereafter he purchased from his tenant the cellar bar creating Dock Street Underground a live music venue. His creative projects include his CD Sweet on You, his book, It's Your Right to be Fit, Sexed, and Happy, So Claim It, and he is developing a TV series called Business Underground. His record labels Hanz On Music and Dock Street Records has produced Method Man's "The Meth Lab." and produces 2nd Generation Wu projects.