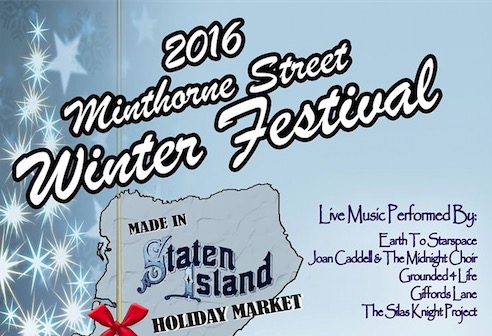 Today, Saturday December 3rd, marks the 2016 Minthorne Street Winter Festival. The event where live music, food, art, and games collide into a delightful afternoon of activity and holiday shopping for the entire Staten Island community.
Admission is FREE and includes the Made in SI holiday market, which showcases a wide range of local artists and craft sellers that are sure to have just the perfect gift on-hand for your loved ones this holiday.
Live Music will be provided by:
Earth to Starspace
Joan Caddell & The Midnight Choir
Grounded4Life
Giffords Lane
The Silas Knight Project
Minthorne Street staple Flagship Brewery will be there as well as food vendors, arts and crafts for kids, and giveaways.
So come on out to Minthorne St, Staten Island, NY 10301 from 2pm to 8pm for your fix of Holiday fun and crafts.