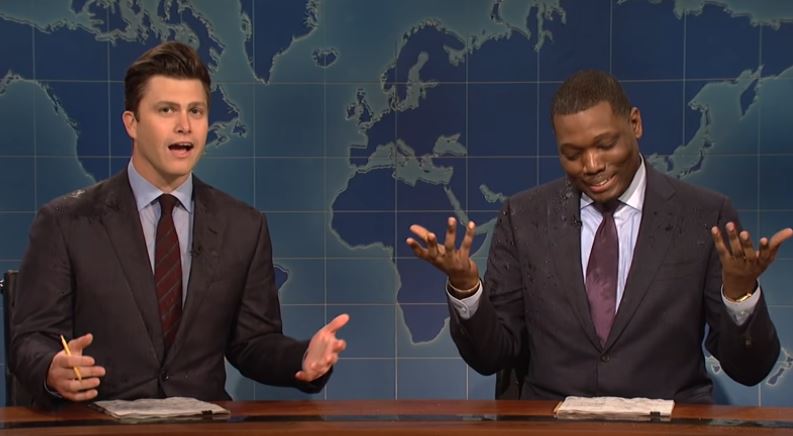 On Thursday, September 19th at 8pm, SNL's Colin Jost & Michael Che will be performing at the St. George Theater to benefit the Staten Island Museum.
They won't be coming alone though, as they bring friends from SNL & Staten Island's own Impractical Jokers; including Steven Castillo, Melissa Villaseñor, Casey Jost, Sal Vulcano, and Brian Quinn.
"We are so grateful to Colin Jost and Michael Che for donating their time and talent to support the Staten Island Museum. This will be a night of laughs that will provide funding and awareness of the cultural programming that Staten Island Museum offers. We are pleased to present this star-filled event at the beautiful and historic St. George Theatre in the heart of downtown Staten Island," shared Janice Monger, Staten Island Museum President & CEO.
Founded in 1881 and celebrating its 138th year, the Staten Island Museum engages visitors with interdisciplinary exhibitions and educational programs that explore the dynamic connections between natural science, art and history based on its diverse collections. All proceeds from the show will go toward presenting year-round programs for adults, kids and family audiences, and educational programs for school groups that spark inner curiosity based on STEAM learning.
"More people need to know about the 'Staten Island Museum.' It's a valuable cultural institution that depends on your donations to operate and grow for the future," said Colin Jost.
If you would like to grab tickets, head on over to the box office by clicking here.
The Staten Island Museum is open Wednesday – Sunday: 11:00am – 5:00pm and is Universally accessible. For current exhibits, visit StatenIslandMuseum.org.
Written By Vin Forte
Vin Forte is a writer. He also hosts the 'Any Time with Vin Forte' podcast. He is currently working on an anthology of short stories due out later this year.