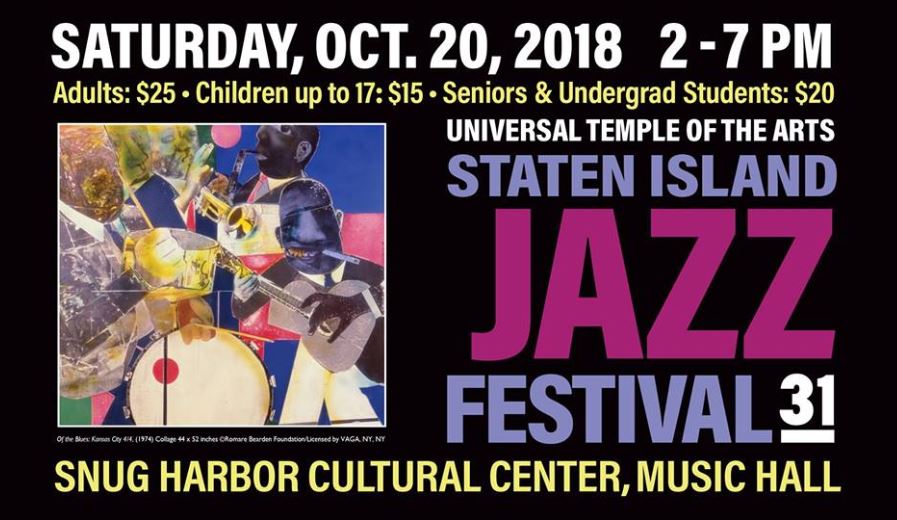 On October 20th, from 2pm to 7pm, Snug Harbor will be hosting the annual Staten Island Jazz Festival from the Universal Temple of the Arts.
The Universal Temple of the Arts works with low income families to provide creative outlets in art and music to under-served children and teens. The UTA also works with local business owners and program financiers such as Staten Island's own Ettore Mazzei, one of this year's honorees for the Miracle of Music program that helped provide music education to underprivileged teens.
This year's festival has a stacked lineup of both local talent and Jazz legends, such as A Tribute to Randy Weston, the famous Sun Ra Arkestra, Winard Harper and Jeli Posse, Leopoldo Fleming's Afro-Caribbean Jazz Ensemble, Danny Mixon Quartet featuring Antoinette Montague, Earl Sauls, Sylvester Scott, Kiane Zawadi, Jeannine Otis, Karlus Trapp, Rudi Mwongozi, Darrell Smith, WaFoo, Sajda Musawwir Ladner, and Nicole Wright. The event will be hosted by Author and WBGO host Sheila Anderson.
Come out on October 20th to Snug Harbor and check out a full afternoon of some of the most eclectic music to ever grace Staten Island. You can buy your tickets here and watch the video below for some highlights from last year's festival.