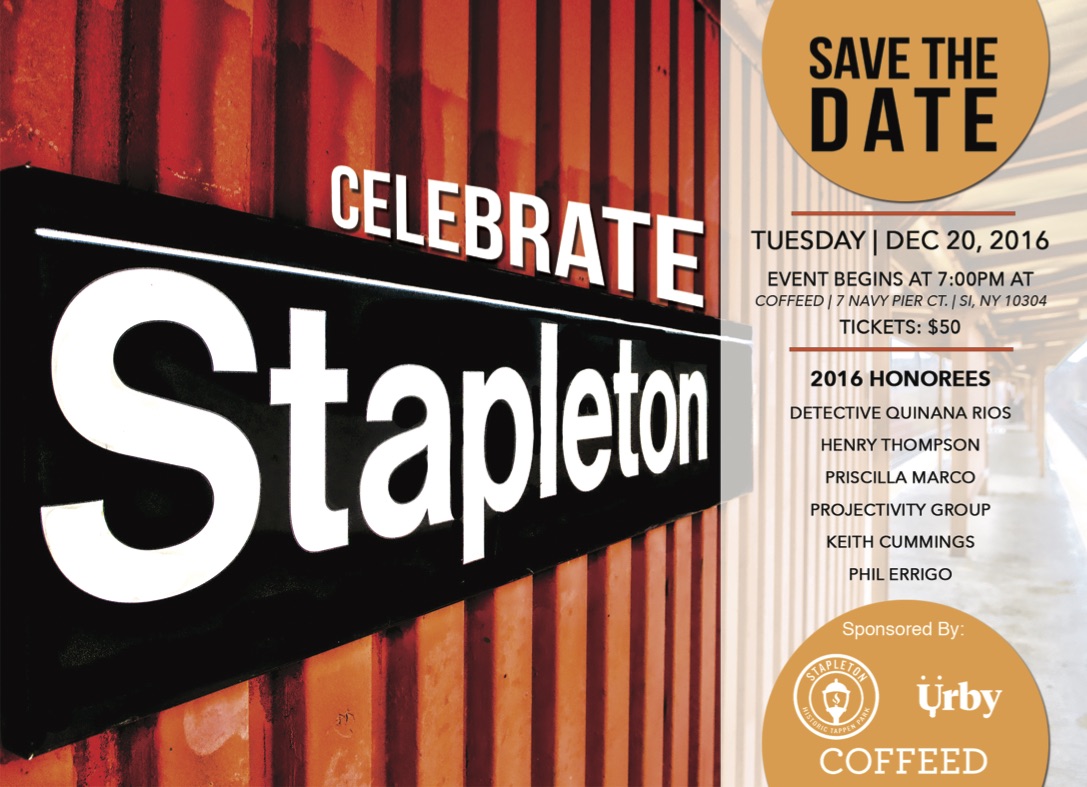 If you're looking for a way to support and celebrate Staten Island this holiday season then look no further. This Tuesday, December 20th, head on over to the Celebrate Stapleton Awards Reception. This event is designed to showcase the very best of Stapleton on Staten Island and promises to be a grand celebration for all in attendance.
Tickets can be purchased for the price of $50 and you can get them, by clicking HERE! The event starts at 7 pm and will be held at Coffeed, which is a coffee chain located within Urby Staten Island at 7 Navy Pier Court, Staten Island NY 10304.
"By purchasing a ticket to this year's Celebrate Stapleton event, you will be supporting our mission to help promote public and private partnership's for the revitalization of Stapleton and the continuous integration of our new and existing communities along the Bay Street Corridor and beyond," said the president of Historic Tappen Park, Kamillah M. Hanks.

The President of Ironstate Development Company and Chief Executive Officer of Urby Staten Island also had this to say, "The Historic Tappen Park Community Partnership plays a critical role in preserving one of Staten Island's most beloved community spaces. We are thrilled to be hosting the organization's Annual Fundraiser and assist in its efforts to highlight the importance and significance of Tappen Park."
The honorees that are set to be in attendance at this year's Celebrate Stapleton are:
Celebrate Stapleton is sponsored by Urby Staten Island, Empire Outlets, Luthmann Law Firm, Coffeed, and Historic Tappen Park Community Partnership.
Written By Chris Knight
Chris first began throwing words on paper when he was just a young little boy and while he has grown in age, his size has remained the same.
It has been said that if Disney World were a person, that person would be Chris.
A self-proclaimed professional storyteller who writes stories for money.
And for providing entertainment, he guesses.
Chris also collects dead presidents, but hates going to the beach.
He is a great juggler,
certified in advanced scuba diving,
and also a liar.