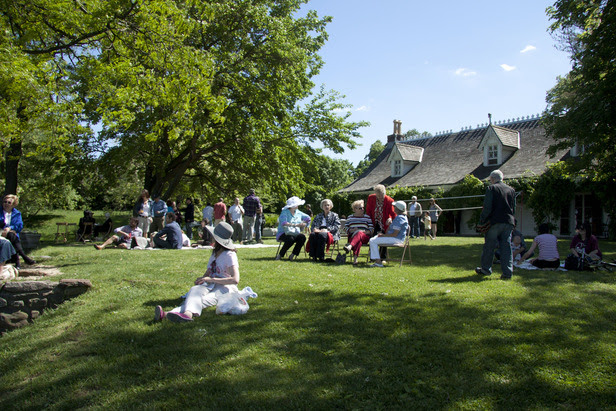 If you've never been to an event at the historic Alice Austen House, you're missing out. Also known as "Clear Comfort," the Alice Austen house was home of Alice Austen, a storied photographer, for most of her lifetime, and is now a NYC landmark, a museum and a member of the Historic House Trust.
In the upcoming weeks, there are a trio of great events that Staten Islanders can attend and visit the site. Here's some information about each:
30th Anniversary Community Festival
Sunday, July 26th, 2015 (12-4PM) | Free
Including food, music, family activities, and tours to celebrate their 30th Anniversary, this festival also features music by Bob Wright & Bill Doerge (12:30) and Karlus Trapp (2:30). Food sponsors include Met Foods and Williams Eye Works.
Lori Belilove and the Isadora Duncan Dance Company
Saturday, August 1st, 2015 (6:30pm) | $10 Suggested Donation/$8 for Members
Lori Belilove & The Isadora Duncan Dance Company honor their namesake, revolutionary dancer Isadora Duncan, and Victorian rebel photographer Alice Austen, in a program of dances choreographed by Duncan, on the stunning grounds of the Alice Austen House. The dance company, the Beliloveables, and guest dancers will perform solos and group works inspired by Duncan's technique and aesthetic. Bring your friends and a picnic: it promises to be a memorable evening.
Screening: Looking at Home
Saturday, August 29th, 2015 (8pm) | $10 Suggested Donation/$8 for Members
Staten Island's pop-up cinema group, Aquehonga Cinema, will curate a selection of independent films on the concept of home, including a selection of Alice Austen's home videos. The program is presented in conjunction with their current exhibition, "Becoming Clear Comfort: History of a Landmark." The museum's building dates back to circa 1690 and has served as a home for over three hundred years. Bring your own chairs and blankets. RSVP to 718-816-4506 x10 or info@aliceausten.org.
The Alice Austen House | 2 Hylan Blvd at Edgewater Street [map]
Learn more about the Alice Austen House, here.
Written By Christopher Olivieri
Chris is a communications professional with a passion for pop culture, media, and all things creative. He has a Bachelor's degree in Communications with a specialization in Media Studies and has experience in running a pop-culture website, freelance writing, coaching, and speaking engagements. He has worked behind the scenes on music albums and co-founded a boutique web design and marketing firm. He is also an amateur photographer and musician. He is always looking for the next exciting project to dive into.