THIS WEEKEND: Not one, but TWO, Christmas Festivals On Staten Island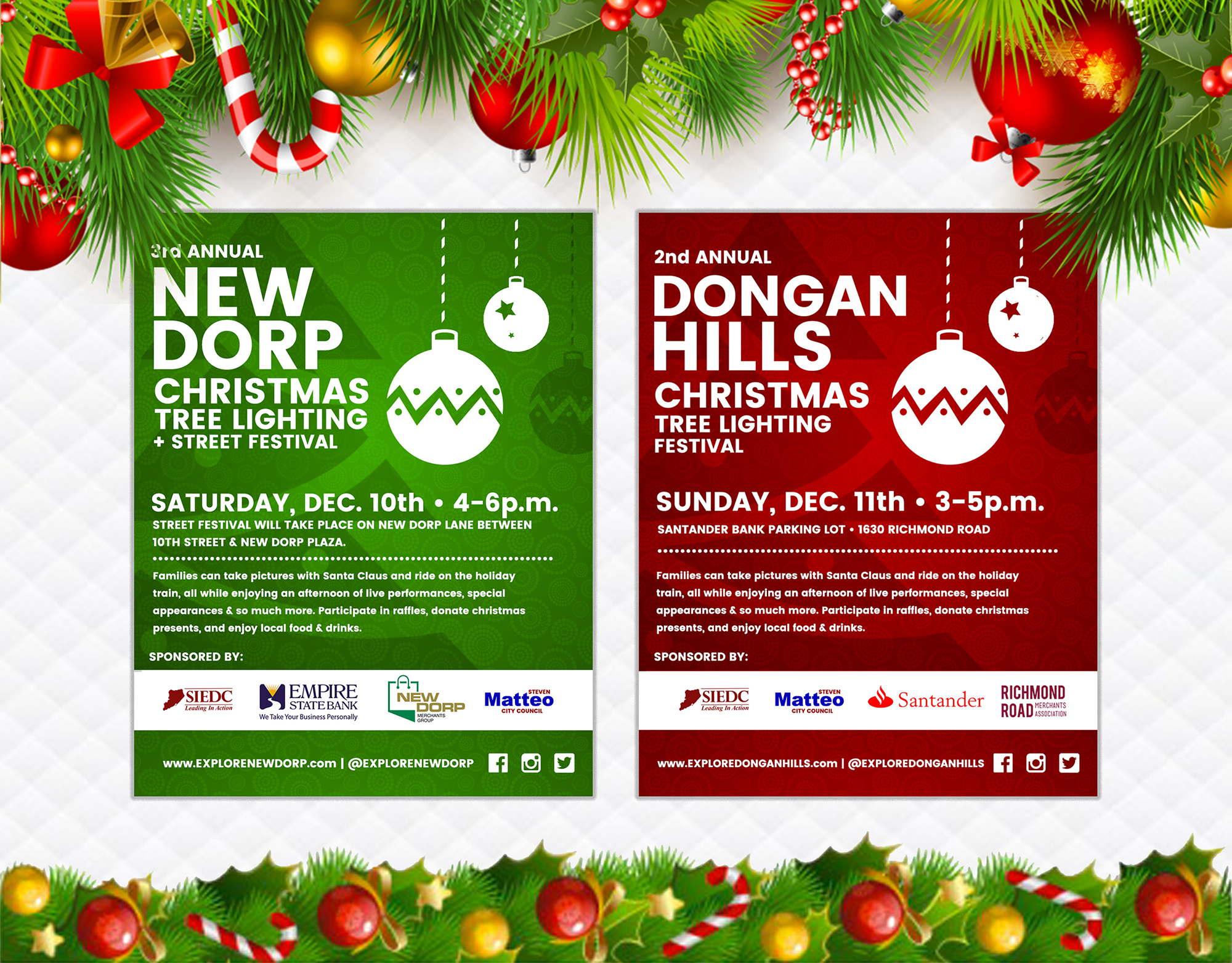 Pictures with Santa Claus, gift ideas from local artists, rides on the Holiday Train, a $500 Visa Gift card & a Flat Screen TV giveaway are just a few of the things families can look forward to this weekend.
Councilman Steven Matteo is hosting two annual Holiday tree lighting festival this Saturday and Sunday, along with the New Dorp and Richmond Road Merchant Groups.
The events are highlighting a pair of neighborhoods on Staten Island's east shore, however, residents islandwide are planning to participate in the festivities. "It's great that our favorite shops work year-round to keep these annual traditions alive", says Tracey of Westerleigh. "We all visit Dongan Hills and New Dorp at some point throughout the year. Events like these really bring the community together and show how much the merchants appreciate and value our business."
The merchant groups have also teamed up with Staten Island Talent to provide FREE vendor space for over 2 dozen local artists and designers.
"Our daughter has been making hand-made items since she was in elementary school", says Frank of Huguenot whose daughter will be selling hand-crafted soaps and sketches both days. "Being able to display her work to hundreds of people during the holiday season is a way for her to share her passion with others. Not to mention these are the perfect gift ideas for the holidays."
New Dorp Lane will be closed off between the plaza (train tracks) all the way up to 10th st. for a street festival. Tree lighting ceremonies will take be held from 4:00 – 6:00pm on Saturday, Dec. 10th at the corner of 9th St. and New Dorp Lane, across from Piece-A-Cake bakery and Brioso's restaurant.
Cory Schifter of Casale Jewelers has a beautiful holiday display with the tree in front of his Dongan Hills location. The Richmond Road Holiday Festival will take place across the street from the jeweler at the Santander Bank parking lot at 1630 Richmond Rd. from 3:00 – 5:00p.m. on Sunday, December 11th.
All families should plan to arrive early to take full advantage of the free rides and pictures with Santa Claus and friends. We are encouraging everyone to bring at least (1) unopened Toy as a donation for children in the community who are less fortunate.
Local film company, Richmond City Media will be LIVE STREAMING the event on Facebook. Click Here to "Like" them on Facebook, then you'll be notified when the video goes LIVE.
Click the thumbnails below to see larger versions of the fliers for each event:
More information on both events can be found on StatenIslandHoliday.com
If you have have any questions, please contact event organizer Jonathan Joseph of Fifth Borough Media at 718.688.4675
Chris is the co-owner of NB Technologies, co-founder of Dog and Pony Show, video producer, freelance writer, internet coach, fire alarm inspector, former child model, and Photoshop guy. He's also a fan of pop-culture, proponent of awesomeness in the world, Mets fan, self improvement enthusiast, & ENTP.
Latest posts by Christopher Olivieri (see all)