Grounded For Life, A Sitcom Set in Staten Island, Hits Netflix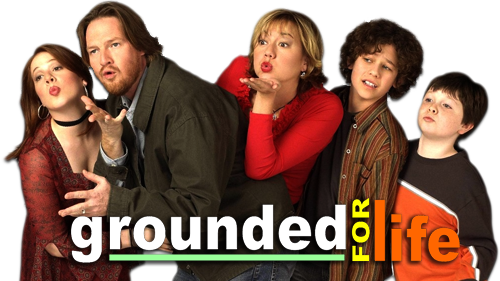 Did you know that there was a network TV show that was set in Staten Island? If you're like most people I've spoken to, you had no idea.
Airing between 2001 and 2005, Grounded For Life was set in our borough! The sitcom, which starred Donal Logue and Megyn, gained a cult following during it's five seasons which were split between FOX and The WB.
What was the show about? Here's the plot summary from TV.com:
Sean Finnerty and his lovely wife, Claudia, became parents right out of high school. Now 32, they struggle to keep their lives (and three children) under control. Claudia is a hostess at a swank restaurant, and Sean works in the subway tunnels. Working 9 to 5 and having three kids to maintain isn't an easy task, but they're doing the best that they can. Oldest daughter Lily, 14, is more than a handful. At that age where she thinks the world revolves around her, Lily devours the majority of the Finnerty's free time. Her little brother, Jimmy, is bookish to say the least, and stays out of trouble — for the most part. And then there's the baby of the family, Henry, who's just a little off. Hyperactive and mischievous, Henry is usually secondary when it comes to problematic children.

Helping Sean and Claudia deal with the brood is Sean's father, Walt, a crotchety man whose idea of a learning experience is teaching the boys how to dig a hole. If he hadn't been a father, he would have been a drill sergeant. Also helping to lighten the load is Sean's younger brother, Eddie, an unemployed stoner who spends his time hanging out with friends and "unknowingly" selling beepers to drug dealers. Over its first season the show evolved a unique take on standard sitcom structure. Each episode begins with a family crisis "explained" in flashbacks from various character's points of view, often overlapping, sometimes contradicting each other as we learn to distinguish what the narrators THINK happened from what we eventually learn REALLY happened.
2005 was a long time ago, so why talk about it now? Because the series recently made it's debut on Netflix! If you're a subscriber to the popular video streaming service, you can check out the series here.
Latest posts by Christopher Olivieri
(see all)