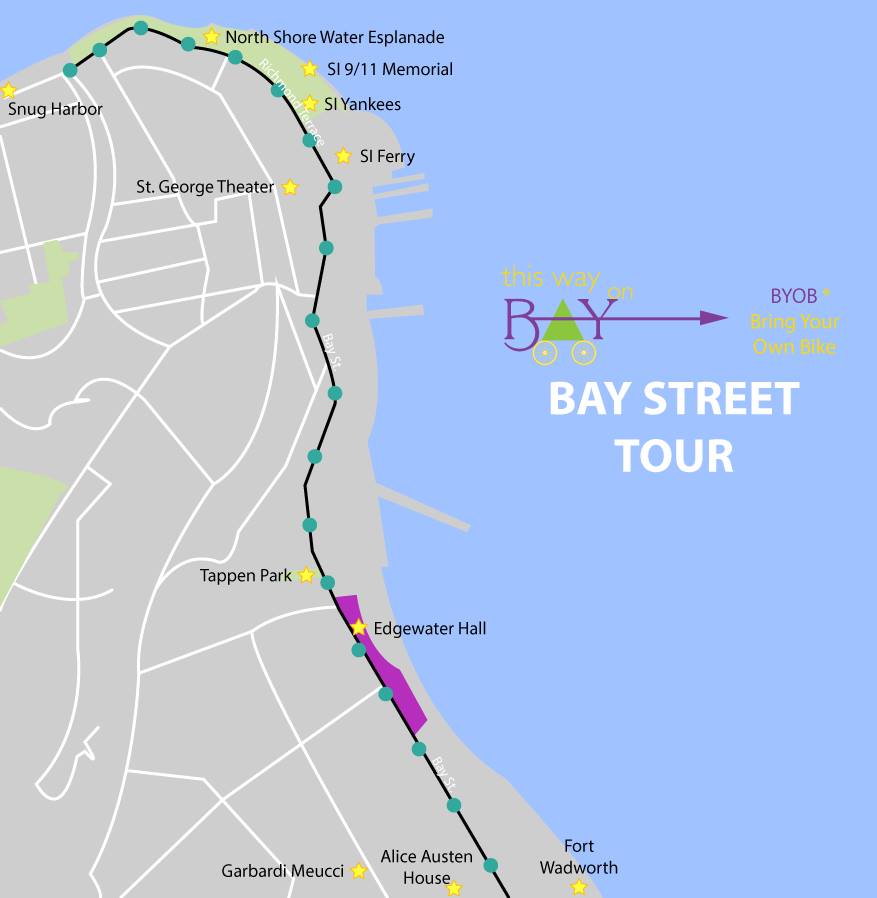 Staten Island's Bay Street Bike Tour
Along the Bay Street Bike Tour, which is marked with approved bike routes by the city of New York, there are many things that cyclists can see. We start the route on Richmond Terrace in the lovely St. George area. As you begin the route, you can backtrack to view Snug Harbor which is about two miles away.
Within Snug Harbor there is the famous Staten Island Botanical Gardens which are designed after the Japanese gardens and the open courtyard concept Japan is known for. Also within the facility is the Nobile Maritime Collections and the Staten Island Children's Museum.
Past there, down Richmond Terrace is the North Shore Water Esplanade, the 9/11 Memorial, Richmond County Ballpark (home of the Staten Island Yankees), and the Staten Island Ferry Terminal. There is also the famous St. George Theater just past the ferry, which has hosted many famous actors and singers such as Lady Gaga who used the facility as a location in the music video for "Marry the Night".
Continue down Richmond Terrace and it turns into Bay Street. Along Bay street you will cross into Tompkinsville, and then into Stapleton. Once you are in Stapleton you will be greeted by the lovely brick and grass of Tappen Park, which is a great place to stop grab some food. We recommend DeFonte's, an Italian specialty take out restaurant specializing in subs. Try their "Sinatra Special"
Other great places to eat along this trail include Ruddy + Dean Steakhouse, Pier 76, Karl's Klipper, Simon's Steaks, and Enoteca Maria.
Continue South down Bay Street to cycle past the Historic Edgewater Hall. Past there you will see the Garbardi Meucci House. And if you venture past our trail you will see the Alice Austin House, and further down Bay you will reach Fort Wadsworth.
Take a look at what you'll encounter on the Bay Street Bike Tour by Independent Cinematics:
Written By Alexandra Nyman
I am a 24 year old fashion blogger from the Poconos who has finally made the move to the big city… sort of. Living on the Forgotten Borough has its perks though, there are some great local fashion spots, and a budding fashion community right here in our backyard. And a quick hop on the ferry brings us all of the inspiration we need. If you have a fashion tip or a lead on a fashion event, send me an e-mail at Alexandra.M.Nyman@gmail.com.