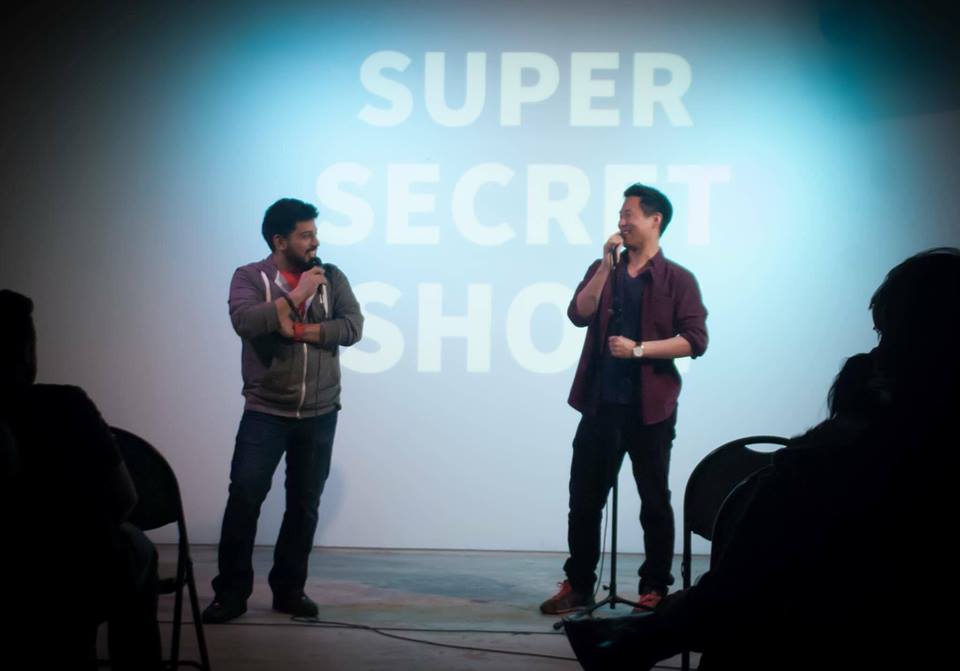 For the past year or so, local comics Manny Rondon and Joon Chung have been producing a monthly (sometimes bi-monthly) comedy showcase from the SI Arts Culture Lounge in the SI Ferry Terminal. Before they moved their act by the sea, they had been doing the shows quite-literally in secret.
According to the men themselves:
Four years ago we threw a house party show in our dear friend Katie's apartment. We made pizza, had a lot of laughs, and there was a dog in the audience. It was safe to say it was a hit! […] Now here we are four years later. Come help us celebrate four years of random living room locations. Four years of "Hey… do you know where the show is?" And four years of messaging Joon Chung or Manny Rondon for the location.
Since those halcyon days of apartment hopping party swapping, the guys have settled into a nice menu of podcasts, stand-up, and videos. Those offerings have only been amplified as they celebrate Thanksgiving Eve and their four year anniversary this Wednesday night, November 23rd at the SI Arts Culture Lounge.
The night starts at 8pm with a live recording of the Super Live Adventure Podcast.
Then shifts to a slate of stand-ups, including:
Peter Revello
Matt Wayne
Jay Miller
Matt Ciufinni
Brian Alvelo
Stephen Ignatious
Molly Lisenco
John Szeluga
Night Hosted By: Joon Chung and Manny Rondon w/ DJ Pierogi King.
With additional videos from Super Secret Show and Ultra Vulture Mega Death Dive.
It's only $5 for admission and with a lineup like that, you're sure to leave with your laugh tummies stuffed! (I'm so sorry)