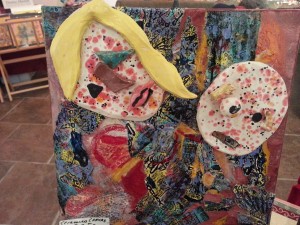 Valentine's Day and Second Saturday Staten Island are headed our way in just a few short days! What better way could there be to celebrate love in combination with art!
As many already know, Second Saturday Staten Island is a free monthly art walk on Staten Island's North Shore. Their mission is to facilitate a working partnership between artists, curators, galleries, audiences and local businesses to promote a more engaged community. Events regularly include visual art, music, dance, and performance. Take a look at what is in store for this month's February 14th Art Walk:
Art Lab
1000 Richmond Terrace, Building Hours
10:00 AM – 4:00 PM
Art Lab's 12th Annual Open Show
Art Lab's 12th Annual Open Show is an open call  offered to local artists where they can display their work. Many works displayed in many mediums in Reader's Choice voted #1 gallery in Staten Island. One of the best shows of the year! A must-see. Closing February 22nd.
Culture Lounge
Staten Island Ferry Terminal
BE A PART OF THE ART!
In an age where people use email, texting, and social media to connect and tell their stories, actual human connection becomes more difficult to establish every day. What would happen if we took things offline and actually picked up the phone to connect with someone?
"Drawing From Memory," created by Melissa Sarris and organized by Melanie Cohn, will ask strangers to connect over the phone by calling a toll-free number and telling a personal story of a childhood memory about, "water," "crossings," "journeys," or "the city." The call will be answered by an artist stationed in the gallery space at the St. George Terminal, who will create a drawing to illustrate or respond to the story. Artists from community partner Art Lab, as well as other local and visiting artists will offer their creative expertise. The completed drawings will be on display in the Culture Lounge through March 22, 2015.
"Drawing From Memory" invites two strangers to enter into a singular exchange. A participant tells a childhood memory over the phone and the artist listens and creates a drawing based on that memory. The use of the telephone allows for an intimate yet comfortable exchange between strangers. For many people, drawing is a basic activity of childhood. For those who pursue art, drawing becomes a means of skilled expression and translation. "Drawing From Memory," artists from community partner Art Lab offer their expertise to translate intangible memory into tangible form. The exchange becomes visible; the created drawing is an artifact of the experience that later becomes a gift to the storyteller.
Snug Harbor Cultural Center And Botanical Garden
1000 Richmond Terrace 12
1:00 PM – 5:00 PM
Newhouse Center for Contemporary Art
SHARP Artist Residency Program: Bethany Collins and Melissa West
Bethany Collins is developing a series of new drawing and photographs inspired by identity and race as viewed through the prism of language. The artist recently completed a residency at the Studio Museum in Harlem. She earned BAs in Studio Art and Visual Journalism from the University of Alabama, and completed a Capstone International Semester Abroad at the Glasgow School of Art.
Melissa West, a performance artist, is investigating the dialogue between a moving body and the contours of the hills and shoreline of Staten Island. The artist has presented projects at the Greenbelt and the LUMEN Festival, and recently completed a residency at The Curiosity Project. She has an MA in Performance Studies from the Tisch School of the Arts, New York University
Staten Island Museum
75 Stuyvesant Place 1:00PM – 4:00 PM
Betty's Typewriter Love Fest
Betty Bressi inspires us to use the queen of machines- the typewriter to make art! Poetry, dance and art – fingers get ready, our typewriters will await you. Use ours or bring your own manual typewriter. On-going workshop: paper weaving & typewriter activities : 2:00pm-3:00pm Typewriter Poetry – Travelling public/performance poet, Billimarie, will create unique poems for you on her 1950's pink typewriter
3:00pm-3:30pm Typewriter Performance- Deep Tanks Butoh with dancers Jayoung Yoon and Florence Poulain and percussionist/composer Kevin Norton.
CPG Gallery
814 Richmond Terrace
1:00 PM – 5:00 PM 
Maritime
A creative photographic exhibit based on the theme, "maritime". Show ends March 8 2015.
Andrea Phillips Studio
48 Montgomery Ave.
2:00 PM – 6:00 PM
Open Studio
Local artist Andrea Phillips opens her home studio, brimming with original artwork. Homemade crafts, including quilted handbags and switchplates, as well as art, are available for sale.
LIVE MUSIC!!
At 5pm, Saint and Outside Temple will play new songs. **NOT HANDICAP ACCESSIBLE
Hypno-Tronic Comics
156 Stuyvesant Place
5:00 PM – 9:00 PM
Shop opens @ 11am!
Comics and Things
Stop by the local, awesome comic book store to see locally-produced comics, 'zines, and art. Our very own Joe Reginella's viral internet Jaws bed will be here on display for a week!Special 10% discount to all Second Saturday attendees!! [Some restrictions may apply.] For more information, call 718-720-0001
Every Thing Goes Book Cafe and Neighborhood Stage
208 Bay Street 8:00 PM – 10:00 PM
(cafe opens at 10:30am!)
The Valentine's Day Special
Music and performances by the Lesbian Underground:
Lys Merlot and Nani, the music of Yeti and others!