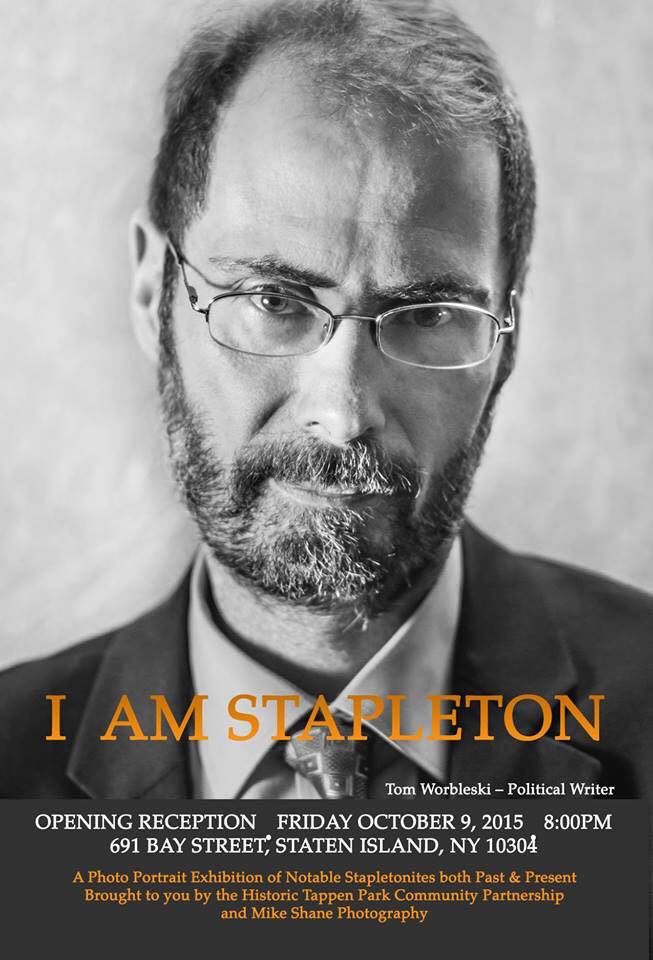 One of the exciting exhibits featured during this week's Illuminate Stapleton art festival is "I Am Stapleton," The exhibit is a collaboration between The Historic Tappen Park Community Partnership & Mike Shane Photography. Both parties cordially invite you to the opening reception, which highlights local business owners, artists, residents, community leaders and visionaries in the neighborhood.
We spoke to Mike Shane about the event, and here's what the polymath-photographer had to say:
"I Am Stapleton is an ongoing portrait photography collaboration between Projectivity, Mike Shane Photography & Historic Tappen Park Community Partnerships. We intend to shine light on the wonderful people who make the Stapleton section of Staten Island so great. This is a celebration of variety, a glimpse into the rich cultural diversity that exists in our midst.
When the topics of Stapleton & Photography came across the planning table for Illuminate Stapleton, they informed me my participation was a necessity. I guess that's a result of my efforts as documentarian of the arts community that has flourished in Stapleton for decades and my 5 year residency on Van Duzer St.
The curators selected a cross section of local business owners and residents (past & present) to feature for the first round of this series. As a photographer, it was very tempting to pay homage to Stapleton's rich visual landscape, but I chose instead to isolate the subjects onto a stark background to draw emphasis on their humanity and individuality. But… You cannot tell the full story of a neighborhood's diversity in the faces of just 13 people so I look forward to expanding this series in the coming months and years.
Stapleton, like all of New York City, is in a state of flux. The new residential development under way and the incoming "Wheel" is sure to affect our community. The socio-economic implications of that change will effect all its residents and the business owners who call this area home. I hope Stapleton retains the character and diversity that make it what it is and that change happens in a way that is fair and respectful to those who already call it home while accommodating the prospects of new growth and change. It's important to have that discourse as well. Change is good, but not if it benefits a select few while displacing and disenfranchising others."
See the official Facebook event for I Am Stapleton, here.
Be There: 8pm on Friday 10/09/15 at Edgewater Hall, 691 Bay Street
Written By Christopher Olivieri
Chris is the co-owner of NB Technologies, co-founder of Dog and Pony Show, video producer, freelance writer, internet coach, fire alarm inspector, former child model, and Photoshop guy. He's also a fan of pop-culture, proponent of awesomeness in the world, Mets fan, self improvement enthusiast, & ENTP.