The North Shore of Staten Island is known for its rich history & historic architecture. Three of the Event Spaces, The Great Hall in Snug Harbor, Alice Austen House & Edgewater Hall are located in historic buildings and three are set in urban settings, Overspray, 5050 Skatepark & Flagship Brewery.
Snug Harbor
Snug Harbor is an oasis of historic buildings, botanical gardens on 83-acres to include the Great Hall, authentic Tuscan Garden and Chinese Scholar's Garden. The Resident Caterer, Celebrate Snug Harbor has over 40 years of experience and a magic touch.
1000 Richmond Terrace, Staten Island, NY 10301 | (866) 683-3586 | Website
The Alice Austen House
Alice Austen (1856 – 1952) was one of America's earliest & most prolific photographers. The Alice Austen also known as Clear Comfort was her home and today is a museum & event space. Enjoy spectacular views of the Verrazano Bridge & New York City Skyline while enjoying great food & drinks under a tent. You can choose your own Caterer & Tent Rental Company  
2 Hylan Blvd | (718) 816-4506 | Website

Edgewater Hall
Edgewater Hall built in 1876 boasts a rich history. Located at 691 Bay Street, the beautiful Staten Island catering hall was built as an event space by Michael Nynan and later used as a location of the Staten Island Savings Bank. During Prohibition it was used as a speakeasy frequented by the Vanderbilts and Barrymores. Resident Caterer chez vous caterers plans weddings & special events at your home or theirs.
691 Bay Street | (718) 720-0900 | Website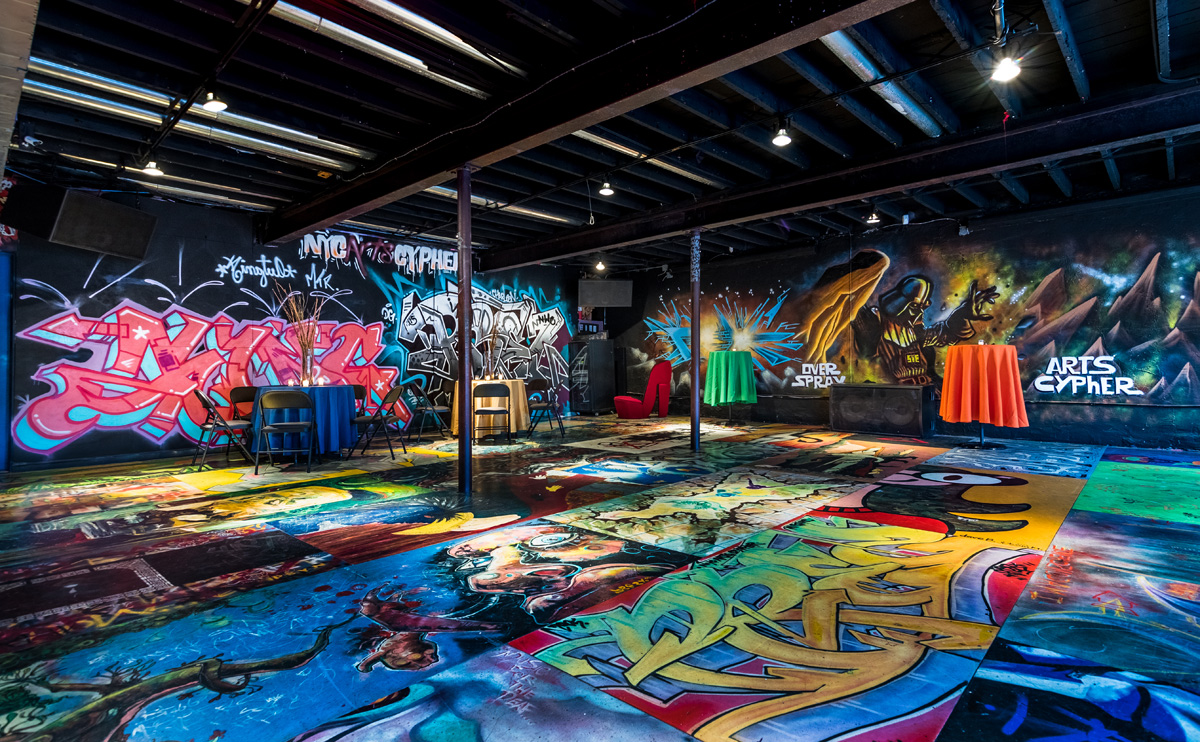 The three urban event spaces primary businesses are a Graffiti Art & Break dancing School, Indoor Skatepark & Brewery. Bring your own catering & party rentals.
Overspray
Overspray is a 2 floor colorful, energetic, art infused catering & event space with a floor to ceiling graffiti backdrop. Perfect for Gothic Weddings, Sweet 16's, Children Birthday Parties, Industry Events & Music Videos.
12 Broad Street | (347) 723 1825 | Website
50/50 Skatepark
5050 Skatepark is a chill custom built indoor skatepark located in a 10,000 square foot warehouse. 5050 Skatepark is New York City's only, and Staten Island's first indoor skatepark. Host your Birthday Parties, Special Events, Movie Shoots, Music Videos, Live Performances, and Fundraisers.
354 Front Street | (347) 857-6007 | Website
Flagship Brewery
Flagship Brewery is Staten Island's only brewery with a taproom offering beers to include American Pale Ale & Dark Mild by the pint & growler. The Flagship Brewery's Tap Room accommodates up to 240 guests for corporate mixers, Oktoberfest style weddings & special events.
40 Minthorne Street | (718) 448-6284 | Website
Written By Ettore
Ettore grew up working in the restaurant & catering business from the age of 12. He graduated from the College of Staten Island with a Bachelors's in Mathematics & Finance in 1985. In 1986 he started Chez Vous caterers from the basement of his home in Dongan Hills and caters parties at homes and businesses in the tri-state area. In Oct 1987 he rented the first floor of Edgewater Hall at 691 Bay Street. A few years later he added the party rental division to Chez Vous. In 1998 he purchased Edgewater Hall and renovated the first and second floors making them party spaces. Shortly thereafter he purchased from his tenant the cellar bar creating Dock Street Underground a live music venue. His creative projects include his CD Sweet on You, his book, It's Your Right to be Fit, Sexed, and Happy, So Claim It, and he is developing a TV series called Business Underground. His record labels Hanz On Music and Dock Street Records has produced Method Man's "The Meth Lab." and produces 2nd Generation Wu projects.