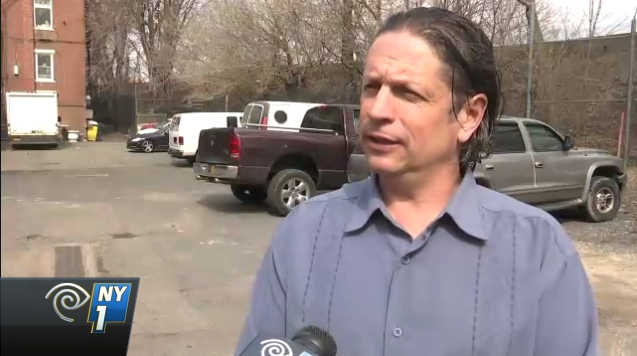 I reviewed the Mazzei vs MTA case and I am bewildered by the fact that the MTA & NYC would be so aggressive pursuing a small businesses parking lot. They have dozens of acres of under utilized land adjacent and surrounding the lot added to the fact that NYC has given away several plots of land for free to other entities in the immediate area. Mazzei vs MTA is a case citing a centuries-old legal doctrine known as Adverse Possession. Adverse Possession is the occupation of land for 10 years or more to which another person has title. Mazzei & his tenants have been using the lot for 30 years uninterrupted and losing the space would be devastating on their businesses.
NY1 tells the story of the case, watch here
Questions that I have to ask include:
Is it possible for a small businessman with limited resources to fight the MTA & NYC with unlimited resources? Why wouldn't NYC & MTA support a Staten Island businessman who has contributed to the neighborhood for 30 years? Why would NYC senior counsel be so aggressive towards small business and state in an email "move your belongings or we will move them for you?"
Can a NYS Supreme Court Judge rule fairly in a case involving the MTA, A NYS entity & NYC? Why would he dismiss an adverse possession case when the law states, "You can adverse possess government property when they have not used it in government capacity" and when the MTA counsel stated that same statement in his reply to Mazzei Complaint? Why would NYC & MTA force a small businessman to spend over $30,000 to represent himself for land he feels he rightfully owns?
Q & A with Ettore Mazzei

Ira: When did you start your business?
Ettore: I started my catering company from the basement of my home in 1986 with $2000 and later that year I rented Edgewater Hall at 691 Bay Street.
Ira: Tell me about your history in regards to the lot in question?
Ettore: When I rented Edgewater Hall in 1986 it included the parking lot. In 1998 I purchased the building continuously using the parking lot. In 2005 I built 701 & 703 Bay Street adjacent to the lot.

Ira: How much property do you own next to the lot?
Ettore: I have 4 buildings, 691 695 701 & 703 Bay Street on less than ½ an acre and I pay $45,000 a year in property taxes.
Ira: Did you attempt to negotiate with the MTA & NYC?
Ettore: When the MTA first contacted me I offered to share the lot given they stated they needed it to store equipment during the renovation of the nearby Clifton Train Station. I drew up a plan that I thought was fair and they never acknowledged receipt of the plan or my correspondences. Than came the Ceased & Desist and at that point I prepared a lawsuit Pro Se. After being berated by the Judge & being told "Do you own property, have a job? Than get a lawyer" and prior to hiring a lawyer I made a cash offer to settle because I was advised that the suit could cost in excess of $30,000 to pursue. I also offered to use the lot for public use including affordable housing or a community parking lot.
Ira: Why do you think the MTA wants the parking lot back after 30 years of never stepping foot on it?
Ettore: The MTA owns 154 acres in around their tracks in Staten Island. Over 12,000 times more land than the parking lot. After changing their story 3 times as to why they needed the land, the final answer was to rebuild the power station which is nowhere near the lot. Everyday I look at acres of land behind the fence that is under utilized and confused as to why they would harass me for my lot.
Ira: Do you think small business is doomed in NYC?
Ettore: Over the last few decades Mom & Pops have decreased dramatically. Under the Bloomberg administration small business got destroyed to include my field, the restaurant businesses after the city adopted the Board of Health A B C letter ratings. So many restaurants got shut down or just walked away, refusing to expand or open new restaurants. Mayor DeBlasio's efforts to support small business with his newly adopted advocacy program and his commitment to keep the city alive with diversity through his affordable housing plan is encouraging.
Ira: Is the case stressful for you?
Ettore: The stress has had a very negative effect on my health and I have had a hard time focusing on running my business.

Ira: Were you surprised at the Supreme Court decision to dismiss the case?
Ettore: I was shocked but then again from the beginning the Judge stated "you cannot adverse possess government land" I never had a chance. When we made the point that the land is owned by the city and the MTA does not have the authority to ask me to vacate, he stated. "It does not matter, it is the Sovereign's land"
Ira: Who is your attorney?
Ettore: Michael Calano. I found Michael when I was reading case-law that stated that you can adverse possess government land. He was the plaintiff attorney & won an adverse possession case NG vs MTA.
Ira: What is next in the case?
Ettore: The Judge said if you don't like my decision, then appeal it and that is what we did. Now 9 Appellate Judges will decide the case. 

Ira: Are you afraid of retaliation by the City & State?
Ettore: Yes indeed. In my view, over the last 3 decades, I have been a victim of NYC & NYS excessive fines on several occasions.
Ira: What if you lose the appeal?
Ettore: I am representative of all small business and small business is the Heart of America. We are resilient and one thing you can count on is that once a businessman, always a businessman. If NYC chases me out-of-town, I will open up shop in a New State and thrive. Being a Businessman of thirty years has blessed me with wisdom and the knowledge that in every breakdown there are new opportunities.