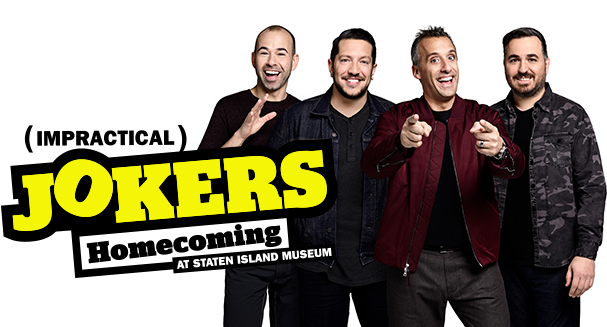 From Thursday, July 12, 2018 through March 17th, 2019 the Staten Island Museum will be hosting an exclusive exhibit on the Impractical Jokers.
The Impractical Jokers have made their name worldwide as one of Staten Island's biggest success stories and their hometown pride has shown through in a lot of their work over recent years. Including not only references and using local locales, but by culling local talent from SI to be a part of their show. Now, Staten Island returns the love with an almost year long exhibit highlighting their work on the show.
According to the SI Museum:
See original costumes, props and art created over the past seven seasons. View new interviews, episode highlights and learn about behind-the-scenes production, including some secrets. Take a journey with the Jokers from high school hijinks to mainstream comedic success that all started on the shores of Staten Island. Interactive surprises are found throughout the museum to make the Jokers' exhibition experience as unexpected as the Impractical Jokers themselves.
Limited advanced sale tickets will be available and can be obtained by joining the SI Museum mailing list here.
Members Only Pre-Sale: Begins Friday, June 1, 2018 at 12:00pm
General Public Pre-Sale: Begins Friday, June 8, 2018 at 12:00pm
Impractical Jokers: Homecoming at the Staten Island Museum
On view from July 13, 2018 through March 17, 2019
1000 Richmond Terrace, Building A, Staten Island, New York 10301
Written By Vin Forte
Vin Forte is a writer. He also hosts the 'Any Time with Vin Forte' podcast. He is currently working on an anthology of short stories due out later this year.