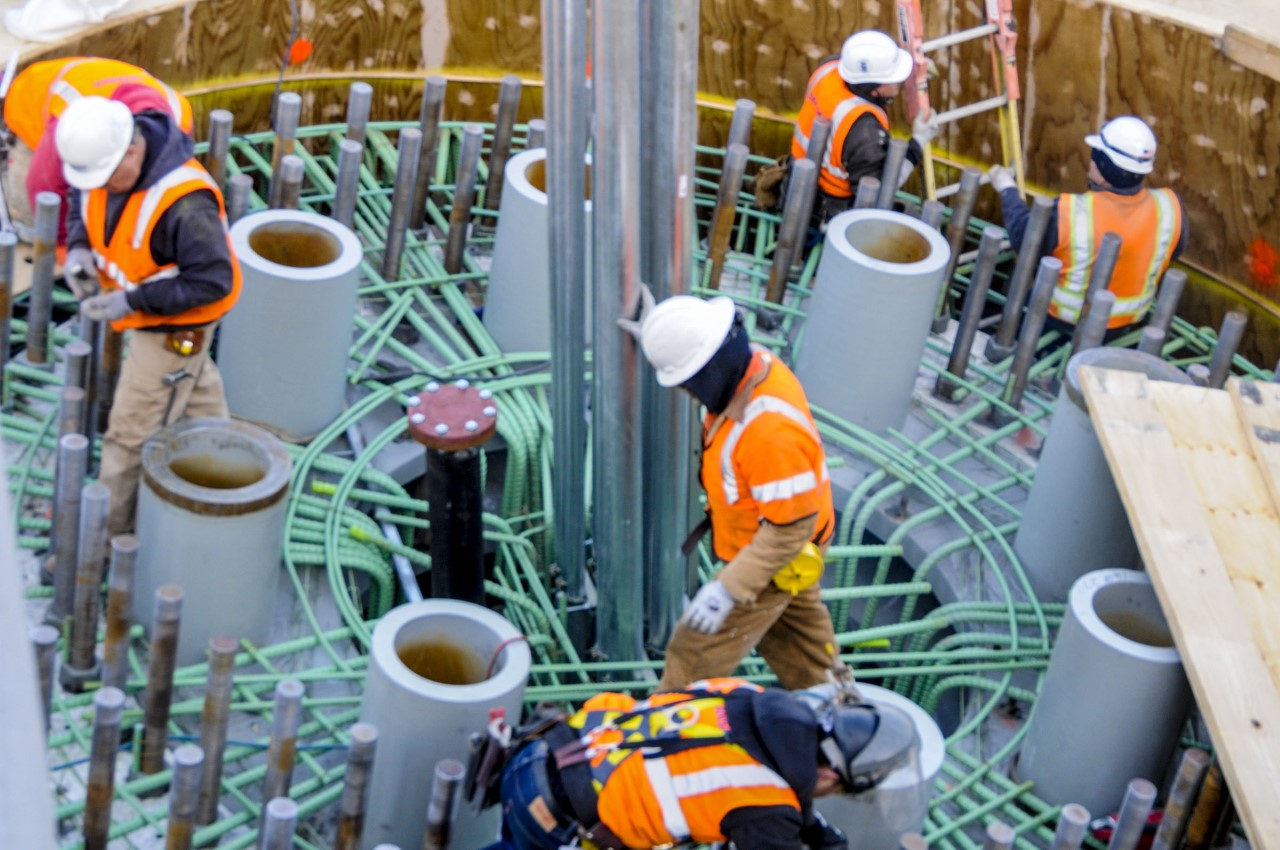 Set to open in 2018, the New York Wheel began installation of its first major piece early yesterday afternoon with four pedestals that will be responsible for holding up the massive structure. Yesterday, we were privileged to join CBS News and NY1 News as New York Wheel CEO, Rich Marin, led a tour of press, counsel members, project partners, and stakeholders around the construction site that will one day become the biggest tourist hot spot New York City has seen in years.
The pedestals the wheel will sit on are the very first tangible pieces of the wheel to reach the actual construction site. They were constructed and manufactured by the ADF Group in Quebec, Canada, and had to be transported over to New York via two sets of barges over a period of eight full days each, from the Port of Montreal. Fun fact: The pedestals had to be transported by barge because they were too heavy for the roads, weighing in around 1300 tons.
New York Wheel CEO, Rich Marin, had this to say about the pedestals:
"The arrival of the Wheel's pedestals is important for several reasons, these are the first major parts of the Wheel to arrive at our site and soon, we will begin to see the rise of the Wheel along New York Harbor.  In addition, this is the first use of our temporary dock, which we're proud to say was done with local Staten Island firm Reicon.  At every turn of this project, we've sought to use a combination of best-in-class partners and vendors, and to hire and buy locally wherever possible.  To date, we've added millions to the local Staten Island economy through this project; as we get closer to our opening, this number will continue to grow."
Staten Island construction firm, Reicon Group LLC, is responsible for building a three million dollar temporary dock that will be used exclusively for the remaining pieces of the wheel. So far, all construction to date has helped generate more than $26 million dollars for the local Staten Island Community.
The New York Wheel will be around sixty stories tall, which will make it one of the world's largest wheels to date. Its height will reach six hundred and thirty feet above the harbor of New York. The Wheel will feature thirty-six pods and each pod will house up to forty riders. A ride on the Wheel will last you around thirty-eight minutes so be sure to plan ahead!
Check out this gallery of the construction site and get excited for all of the wonderfully fun things to come:
Watch SILive.com's video from the event, below:
Written By Chris Knight
Chris first began throwing words on paper when he was just a young little boy and while he has grown in age, his size has remained the same.
It has been said that if Disney World were a person, that person would be Chris.
A self-proclaimed professional storyteller who writes stories for money.
And for providing entertainment, he guesses.
Chris also collects dead presidents, but hates going to the beach.
He is a great juggler,
certified in advanced scuba diving,
and also a liar.