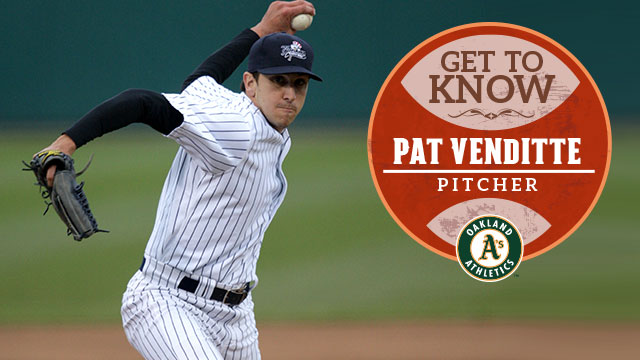 Back in 2008, a video of pitcher Pat Venditte, then a member of the Staten Island Yankees went viral. Now, it's not every day that a video of a class A minor league pitcher goes viral, but Venditte has a talent that's truly novel. Let's take a look:
That's right, Pat throws with both his left and right hands. I'll let Milb.com take it from there:
Pat Venditte was selected by the New York Yankees in the 20th round of the 2008 draft. The hurler spent the past seven seasons in the New York organization, but signed with Oakland as a minor league free agent in November 2014. He is the only ambidextrous pitcher in professional baseball today, and could go down as the most unique player to ever don a Nashville Sounds uniform.
Venditte is naturally right-handed but ever since he was three-years old, the pitcher has been throwing with both hands. He takes the mound with a specially-crafted six finger glove which allows him to switch pitching hands with ease.
Click here to read more in their great piece about him.
Now, only 7 years after his 2008 viral success, the 30 year old who's now pitching with the Oakland Athletics, is about to break into the majors.
Keep an eye out for the ambidextrous hurler during Oakland's next game against the Boston Red Sox this afternoon at 4:10. Considering Pat's sub 2 ERA, things could get very interesting.
Given that there hasn't been a "switch-pitcher" since 1882, it will at the very least be historic.
Here's a great ESPN piece about the flamethrower that covers everything that I haven't already:
https://www.youtube.com/watch?v=4xLa3sJBtjY
Written By Christopher Olivieri
Chris is a communications professional with a passion for pop culture, media, and all things creative. He has a Bachelor's degree in Communications with a specialization in Media Studies and has experience in running a pop-culture website, freelance writing, coaching, and speaking engagements. He has worked behind the scenes on music albums and co-founded a boutique web design and marketing firm. He is also an amateur photographer and musician. He is always looking for the next exciting project to dive into.