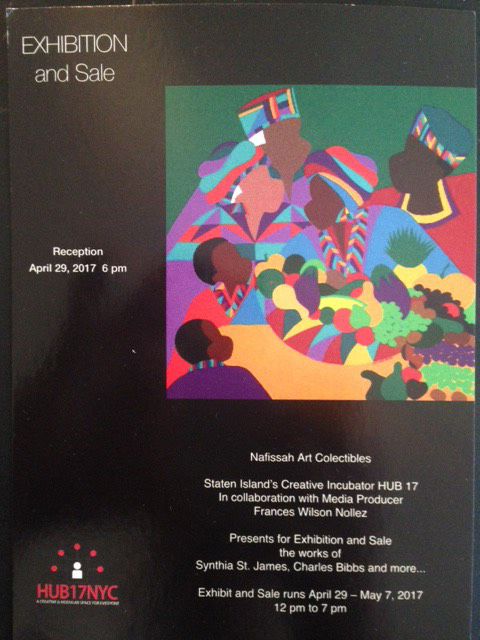 This weekend is your last chance to check out an exhibition and sale of the works of Synthia St. James, Charles Bibbs, & More. at Staten Island's Creative Incubator HUB 17. The event is a collaboration between Nafissah Art Collectibles and media producer Frances Wilson Noellez. The exhibition has been running since April 29th and will continue until Sunday, May 7th.
Synthia SAINT JAMES is a world renowned multicultural visual artist, award-winning author and or illustrator of 17 children's books, authored an autobiographical art marketing book, 3 poetry books, a book of affirmations, and a cookbook. She is most celebrated for designing the first Kwanzaa Stamp for the United States Postal Service in 1997, for which she received a History Maker Award, and for the international cover art for Terry McMillan's book Waiting to Exhale.
Charles Bibbs is a contemporary visual artist entrepreneur and philanthropist. His work is featured in museums, galleries, organizations, and homes of many collectors, displays a deep sense of Spirituality, Majesty, Dignity, Strength, and Grace in his images, that is done in a combination of realistic and larger-than-life interpretations of contemporary subjects that are ethnically rooted.
This Saturday (May 6th) and Sunday (May 7th), you can visit the exhibition from 12 pm through 7 pm at HUB 17. Hub/Studio 17 is an Art and Media space in the Artist District of Staten Island. It can be found at 73 Wave Street [map].
Like HUB 17 on Facebook, here
Written By Christopher Olivieri
Chris is a communications professional with a passion for pop culture, media, and all things creative. He has a Bachelor's degree in Communications with a specialization in Media Studies and has experience in running a pop-culture website, freelance writing, coaching, and speaking engagements. He has worked behind the scenes on music albums and co-founded a boutique web design and marketing firm. He is also an amateur photographer and musician. He is always looking for the next exciting project to dive into.