Drink and Be Merry at Art By The Ferry This Weekend

This Saturday, July 30th, come on out to the lot outside of Flagship brewery and join the celebration of Staten Island and its waterfront with artists, musicians, craftspeople, and writers sharing their unique talents at the 9th Annual 'Art by the Ferry Festival.'
According to their event invite over on Facebook, the day's lineup includes:
MUSIC & PERFORMANCE SCHEDULE:
12:00-12:30……Allergic to B's
12:45-1:15……..Denis Green
1:30-2:00……….North Shore 4
2:15-2:45……….Joan Caddell & The Midnight Choir
3:00-3:30……….Phoebe Blue
3:45-4:15……….Queen Tipsy
4:30-5:00……….All Hands On Deck
5:15-5:45………The Snugs
6:00-6:30………Five Myles Utopia
6:45-7:15………Caroline Cutroneo

CRAFT EXHIBITORS at FLAGSHIP
Dominic Ambrose
Yolanda Berry
Beezy Beez Honey
Pure Body, Jamie Casalino
Sue Ehrlich
Henry Glener
Victoria Cheng-Gorini
Philip Kohler
Helen Levin
Joann Lattanzio
Hey Dollface!, Jen Macaluso
Theresa Mayo
Theresa Marks
Karen McNamara
Mia
Sunset Hill Designs, Linda Rossi
Patricia Salmon
Keri Sheheen
Day De Dada, Vivian Vasser
Jenni Vitek

ARTISTS at FLAGSHIP
Robet Padavano
Dennis Sheheen
Elzbieta Wysoczanska

ART BY THE FERRY EXHIBITON at ART ON THE TERRACE
Miguel Angel
Victoria Bellinger
Anthony Butera
Everet
Henry Glener
Susan Grabel
Diane Griffiths
Lorenzo Hail
Wendy Jackelow
Marilyn Kiss
Susan Ledwith
Terry Marks
Jeff Mason
Robert Padavano
Dennis Sheheen
Stevie Ray Soloway
Kate Titolo
Jenni Vitek
Elzbieta Wysoczanska

So come on down with a thirst for good music, good times, and great beer this Saturday and show off a little hometown pride!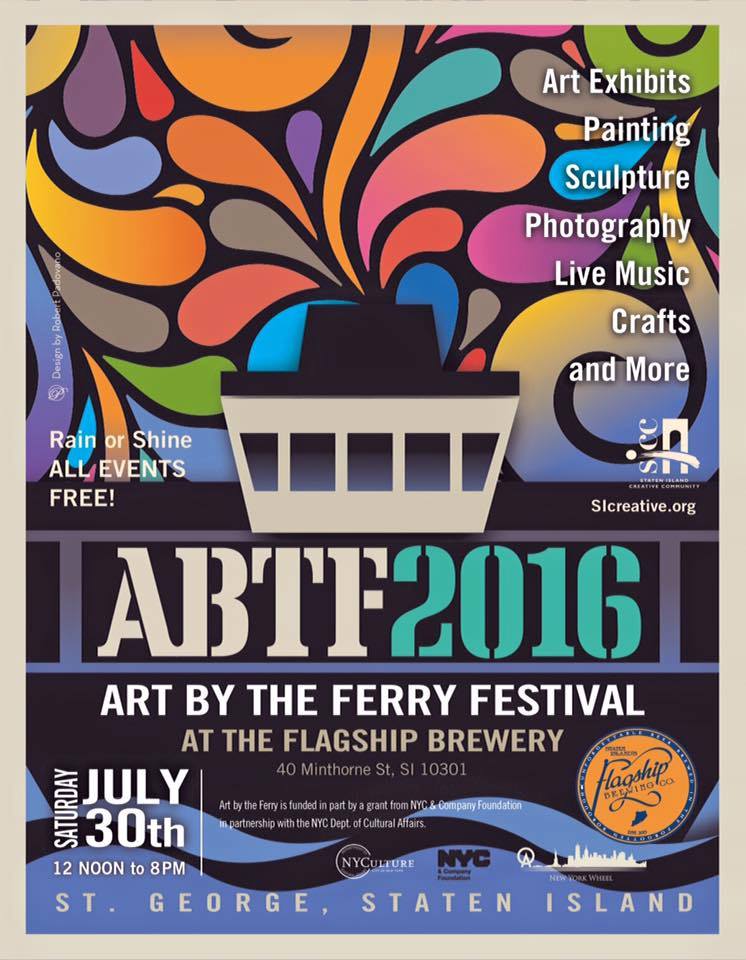 Date: July 30, 12 noon – 8 pm, at the Flagship Brewery lot, 40 Minthorne Street. Free shuttle bus from the St. George Ferry Terminal to the Festival.

Latest posts by Vin Forte
(see all)