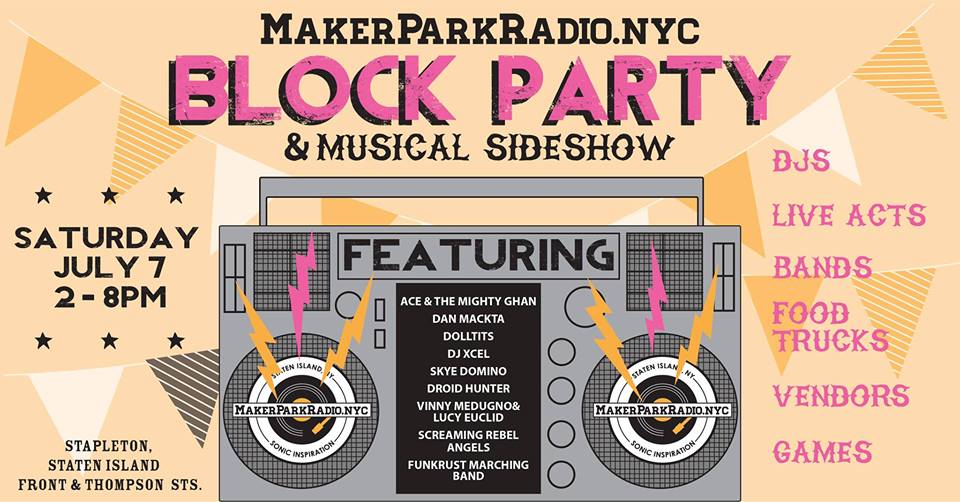 On Saturday, July 7th, MakerParkRadio will be throwing a block party to celebrate its one year anniversary. The event is set to be a full day of activities, with live music, food trucks, vendors, and games.
The band and vendor lineup is as follows:
Ace and the Mighty Gan 2PM – 2:30 PM
DJ Dan Mackta 2:30 – 3:10 PM
Dolltits 3:10 – 3:45 PM
DJ Xcel 3:45 – 2:45 PM 4:00 – 4:30 PM
Skye Domino 4:30 – 5:15PM
Droid Hunter 5:15 – 6:00 PM
Nalani the Polynesian Dancer 4:10 – 4:40 PM
Screamin' Rebel Angels 5:55 – 6:45 PM
Vinnie Medugno & Lucy Euclid from Stairwell Sessions 6:00 – 6:45 PM
Phoebe Eyewalker 6:15 – 6:45 PM
Funkrust Brass Band 6:45 – 7:15 PM

Local Vendors:
NoicePins
Search Party Studio
Deer God Productions
Cheech A' Cini's Truckin Trattoria
Flagship Brewery
Kills Boro Brewing Company
Duzer's Local Cafe + Market
Stereotype Co
Honor Wines
Vinum Nyc
Brooke's Nook
The event isn't just a celebration of all things within the MakerSpace/MakerPark ecosystem though. What they have been able to do over the past year is become a new local hub for artistic expression on Staten Island and this event brings together the community to showcase exactly just how varied and creative Staten Islanders can be.
So come on out and celebrate the continued success of MakerParkRadio for many years to come.
MakerParkRadio is located at 450 Front Street, Staten Island, New York 10304