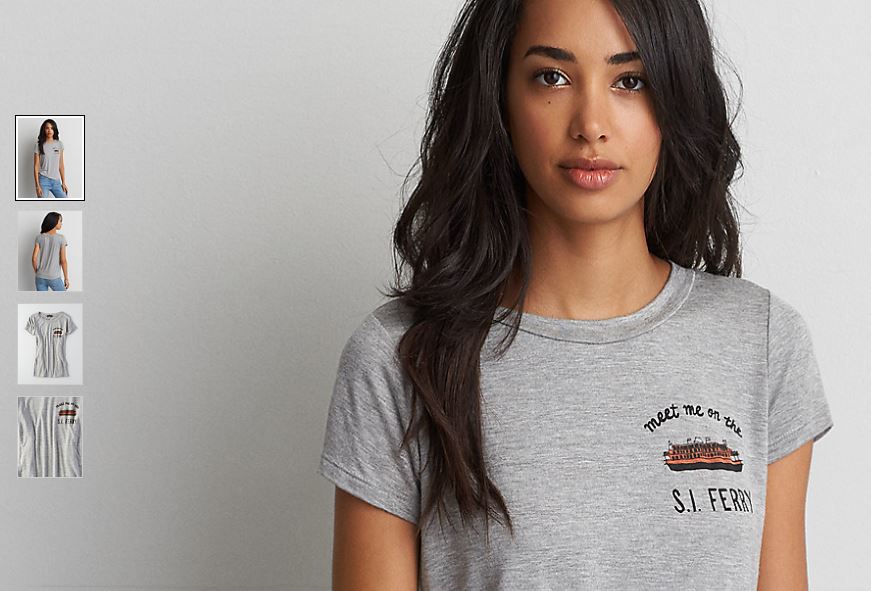 Staten Island may not be a major fashion destination, but it is home to some of the most talented artists and designers in the city. So when a Staten Island Ferry t-shirt surfaced on American Eagle Outfitters' (AEO) website, we couldn't help but feel a sense of hometown pride.
The t-shirt is a part of AEO's Soft & Sexy Collection, which boasts three other city-centric "NYC Easy" designs. The simply designed crewneck t-shirt is light gray with a small drawing of a ferry boat on the right breast section. The message "Meet Me on the S.I. Ferry" is scrawled around the cartoon boat.
It may not seem like much, but this shirt appears to be the ultimate staple for any Island fashionista. It's made with a soft and lightweight fabric that promises to "drape flawlessly in an array of essential silhouettes." If that's not enough to convince you to buy it, the fact that it's on sale might help. For a limited time only, you can snag this and other AEO Soft & Sexy t-shirts for 50% off.
Editor's Note: No, this is not an ad. We just thought you'd like to see this 🙂 [h/t Amanda Irel Sajecki]
Editor's Note #2: As of 12/1/16, the tee is no longer available on the AEO website. This may or may not be because we purchased them all. 
Check out the "Meet Me on the S.I. Ferry" shirt, here.