Staten Island Shakespearean Theater Company Presents 'King Lear'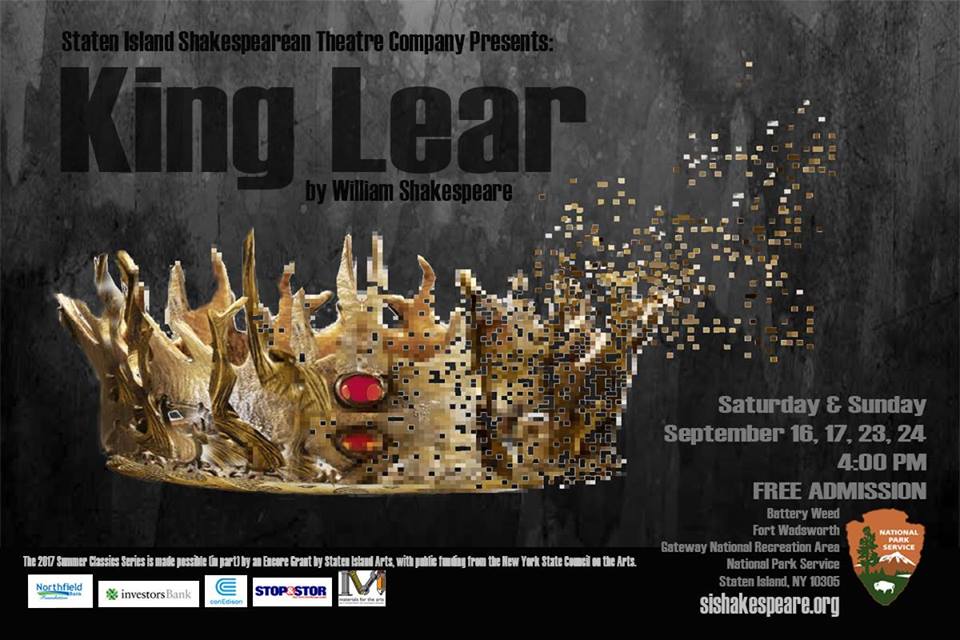 The Staten Island Shakespearean Theater Company is at it again, presenting a professional and locally-cast rendition of a Shakespeare classic. This time, King Lear; the story of a king dividing his kingdom among his children and failing to anticipate the consequences of his actions.
The performances will take place at Battery Weed, Fort Wadsworth and run September 16th, 17th, 23rd, and 24th from 4pm to 6pm.
Tickets are absolutely free, but seating for each show is limited. So you might want to go here and lock in your tickets.
Credits:
Director: Cara S. Liander
Assistant Director: Frank Williams
Stage Manager/Technical Director: Keith Gregory Taylor
Production Designer: Joseph Barral
Costume Designer: Toni-Ann Fischetti
Sound Engineering: Alan Lubiner
Assistant Stage Manager: Amy Puleo
Production Assistant: Chelsea Smith
Featuring:
Geoffrey Besser
Gary Bradley
Memet Canka
Jack Dabdoub
Frank Duffy
Jake Geary
Armand Lane
Sophie Max
Mitch Maglio
Ritty Mahoney
Patrick Nolin
Patrick O'Connor
Melanie Randall
Kerry Robinson
Justin Schiedel
Stephen Scott
Rina Sklar
Rachel Sternlicht
Robert Yuzuk

Vin Forte is a writer. He also hosts the 'Any Time with Vin Forte' podcast. He is currently working on an anthology of short stories due out later this year.

Latest posts by Vin Forte (see all)