Bay Street Brewery Showcases it's Beers at the Celebrity "Wing Fight"
Bay Street's own 'Flagship Brewery' donated its beer to a celebrity 'Wing Fight Monday night. The celebrity 'Wing Fight' was a fundraiser held at Oakwood's Canlon's Restaurant for the Tommy Lindsey Supplemental Needs Fund , a Staten Island charity. The beer was generously donated by the Bay Street Brewery, which featured its own Flagship APA and flagship American Wit. Flagship opened it's doors in May of 2014.
Staten Island has brewed before. It has a long history of brewing in the late 19th century, and a large commercial brewery called Rubsam & Hormann operated as recently as 1960. The borough briefly flirted with craft beer with the short-lived Yankee Brewing Company in the early 2000s. But after a decade hiatus, brewing is back on Staten Island.
On November 17, 2014 , Food Network's veteran chefs Robert Burmeister and Ed Canlon  held the 4 hour event with all its proceeds going to the charity. The idea was for the chefs to come together fighting for the best wings of the night. Chef Barret won the overall competition with Chef Clemenza in second and Chef Lou  rounding off the top 3 wings for the night.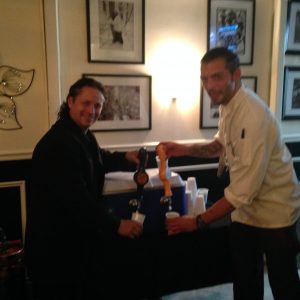 (This Way on Bay Founder Ettore Mazzei with celebrity chef Frank Bilotti enjoying Flagship Beer)
Flagship Brewery
40 Minthorne Street, Staten Island, NY 10301 | 718 448 5284 | theflagshipbrewery.com
Canlon's Restaurant
1825 North Railroad Avenue , Staten Island, NY, 10306 | 718 667 3013 | www.canlons.com 
Ettore grew up working in the restaurant & catering business from the age of 12. He graduated from the College of Staten Island with a Bachelors in Mathematics & Finance in 1985. In 1986 he started chez vous caterers from the basement of his home in Dongan Hills. In Oct 1987 he rented the first floor of Edgewater Hall at 691 Bay Street. A few years later he added the party rental division to chez vous. In 1997 he purchased Edgewater Hall and renovated the lofts on the second & third floor making them party spaces. Shortly thereafter he purchased from his tenant the cellar bar creating Dock Street Underground a live music venue. With real estate prices increasing in NYC, Ettore expanded to the Catskill Mountains and purchased Shandelee Lake Inn, a 1860 dutch barn and the first mansion built in Liberty NY and restored them. His creative projects include his CD Sweet on You, his book, It's Your Right to be Fit, Sexed, and Happy, So Claim It, and he is developing a TV series called Business Underground. He is a partner in Hanz On Music, an R&B / Hip Hop record label. Their latest project method Man presents Hanz On, includes the single "Shining Star" which is available on iTunes. Their next project The Meth Lab is Method's Man next album. His publishing company, Relationship Ed Publishing has released, you jump i jump and will be releasing will be releasing Healthy Relationships 101:The Book