Since the Staten Island Yankees were created in 1999 and moved to Richmond County Ball Park in 2001, the Low A team has shown New York's southernmost borough some great baseball. The team has won seven division titles and six championships since 2000, the last coming in 2011. In that time, fans have been lucky enough to see numerous young 20 somethings chisel the first chapter into what would become a Major League Career.
Some of those players went on to play for the hometown New York Yankees and some for other teams, including the hated rival Boston Red Sox. It all started here though, on Bay Street, in front of a raucous crowd willing to be the encouragement these players needed through the streaks and the slumps. Here are the top ten Staten Island Yankees who saw their dream realized.
Who are the best Staten Island Yankees of all time? Let's see:
 10. Willy Mo Pena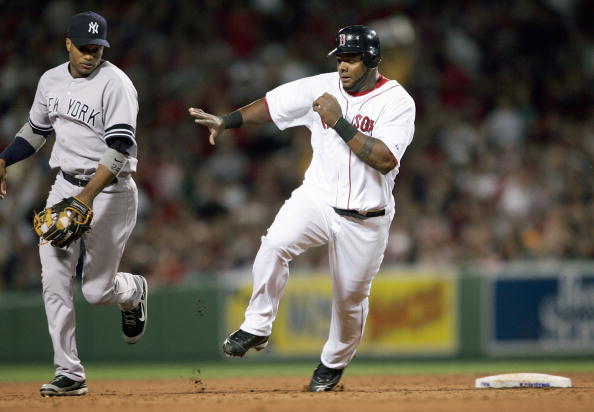 Few know this future Red and Red Sox played on Bay Street but that's exactly what happened. Willy Mo had a largely unimpressive career but was a solid 3rd/4th outfielder for most of it. His peak was from 2004-2006, his last two seasons on the Reds and his first in Boston. Pena hit 45 home runs in 183 games for the Reds those two years and hit over .300 for Boston in 2006. Willy Mo was no All-Star but he was definitely serviceable.
9. Phil Coke
Phil Coke has been a better Tiger than Yankee but Yankees fans will remember him for being the other lefty out of the bullpen in the 2009 playoffs after Damaso Marte. Coke imploded a bit in the World Series, giving up two home runs and having a 13.50 ERA but he still was on the winning side and in New York that means a lot. Coke also was part of a package that brought Curtis Granderon to the Bronx. More on his fellow trade mate in a bit.
8. Francisco Cervelli
Francisco Cervelli, now a Pittsburgh Pirate has had a curious career so far. He came up and hit almost .300 in 42 games as a rookie and then struggled to break .270 until this year when he hit .301 in 49 games. Cervelli admitted to using PEDs when the MLB caught him in the Biogenesis scandal but by all accounts that was a one-time thing. Cervelli may start this season and Pittsburgh and we can finally get a real evaluation on what kind of player he is.
7. Chien-Ming Wang
Kind of Surprising to see Wang so low on this list, right? The man was arguably a top 2 pitcher on three consecutive playoff teams. The problem is once got hurt in Houston his career basically ended. He never could stay healthy and productive after that. Wang actually lead the MLB in HR/9 in both 2006 and 2007 with his nasty sinker and should be remembered accordingly.
6. David Phelps
Phelps gets the nod ahead of Wang not because of what he has done on the field but because of what he hasn't done. His first three seasons are nowhere near Wang's but he hasn't imploded like Chein-Ming did and there is little reason to think that kind of demise will happen. Phelps is a very solid starter/reliever who should expect to see considerable action once again on the Yankees in some role in 2015.
5. Mark Melancon
Melancon has turned into an excellent reliever in baseball. The 2013 All-Star has now put up back to back seasons with sub two ERAs for the Pirates. He has also allowed just 130 base runners in 142 innings the last two seasons and at the age of 29 shows no signs of slowing down.
4. Ian Kennedy
Ian Kennedy, another piece in that Curtis Granderson trade, didn't work out so well in New York but he had a superb 2011 campaign in Arizona and after some bad years has found his way back to being an above average pitcher. With a career 3.93 ERA and 8.2 K/9, Kennedy has turned out to be a pretty solid pitcher throughout his career.
3. Melky Cabrera
Despite having his best season marred with a steroid suspension, Melky has turned out to be a fine baseball player for several teams throughout baseball. He hit over .300 last year with 16 home runs for Toronto and has been a real presence near the top of their order. The only criticism of him (besides the PEDs) is that his fielding hasn't lived up to expectations.
2. Brett Gardner
Brett Gardner has become one of the premier defensive outfielders in baseball and his bat can make some noise too. Gardner spent much of last season being the best position player on the Yankees and while his average and on base percentage took a hit, he gained a lot of power and hopefully can bring his average up while maintaining the power surge.
1. Robinson Cano
Sorry Yankees fans, this one was too easy. Robinson Cano is a future hall of famer and a perennial top 5-7 player in baseball every season. He is a gold glove caliber second baseman who hits more like a corner infielder. His career triple slash of .310/.358/.499 is remarkable for anyone, never mind a second basemen. That ten year contract was a big one but the Yankees could sure use his lineup presence now.