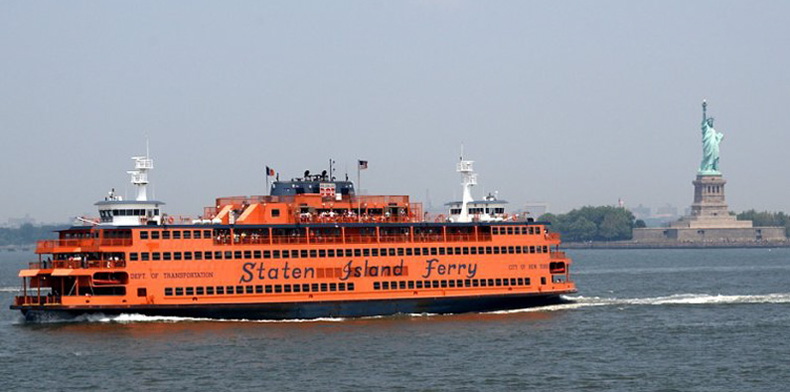 Originally, this post was just going to be about a song that had been floating around SI during the mid-2000s. It had shown up in music stores at the time and was seen as a kind-of de-facto anthem for the borough. The song was "(I Want to Live in) Staten Island" by The Ferrymen. The song is not on Youtube and the only way to hear it is by going to this webpage right here and clicking the play option that will force you to stream the song through your iTunes.
But in researching this song, I was led to a 2005 NY Times article that told a much crazier story than just a couple of guys hopped up on SI pride.
Back in 2005, Z100 had been playing a parody song of Gwen Stefani's "Hollaback Girl" basically making fun of SI.
According to the NY Times:
[The song was] a nameless 58-second tune that makes odorous charges about the island. Set over a bare-bones beat lifted from the hit song "Hollaback Girl," by Gwen Stefani, it features a woman with a noticeable accent shouting phrases like "Reeks like gawbage" and "You know it's made of trash, girl." The song was written by two of the station's D.J.'s, Romeo and Niko, who had previously created a work that insulted women from New Jersey.
Upon hearing the parody song (at the time being played multiple times a day), local SI resident, Robert Santangelo, dug up a song that he and his band, The Ferrymen, had recorded in the mid-90s and sent it over to the radio station.
Written with his brother Joseph and recorded in the 1990's amid talk of Staten Island's secession from the city, it features lines like: "I wanna boat ride to my job. Don't want no trash in my backyard." […] The two works received equal airplay, but the station retired both on Tuesday, ending a matchup that had captivated listeners from Rossville to Rosebank, at least for a week.
So if it hadn't been for Z100 ribbing Staten Island, we may never have been able to experience the joyful, jaunty tune that was The Ferrymen's "(I Want to Live in) Staten Island."
Listen by going here and streaming it.