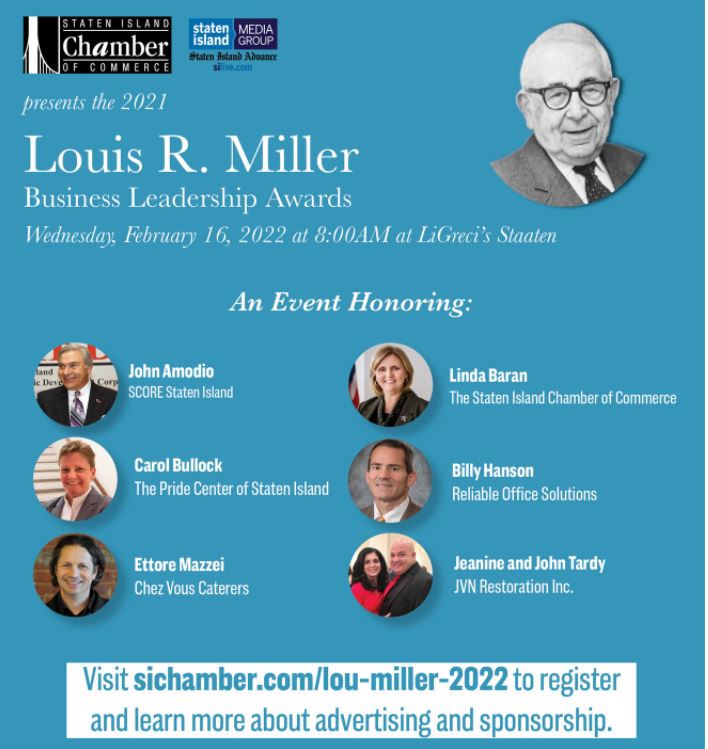 It's common knowledge that running any business is hard work. Somehow, there are actually business owners who contribute to their communities on top of providing important goods and/or services through their companies. That's hard work on top of hard work!
In 1994 the Louis R. Miller Leadership Awards were created in order to celebrate those extraordinary individuals giving back to Staten Island. Initially run by the Business Education Development Council (BEDC), the Miller Awards have since been given out through the Staten Island Chamber of Commerce.
For 2022, 7 awards are being given out to local leaders for their accomplishments, and highlight them as role models for others.
This year's honorees are:
The awards are being held on Wednesday, February 16, 2022 at LiGreci's Staaten (697 Forest Avenue. Staten Island, NY 10310) from 8:00 AM to 11:00 AM EST.
Learn more about this year's honorees, here.
Learn the history of the awards & Louis R. Miller, here.
Register for the event, here.
Written By Christopher Olivieri
Chris is the co-owner of NB Technologies, co-founder of Dog and Pony Show, video producer, freelance writer, internet coach, fire alarm inspector, former child model, and Photoshop guy. He's also a fan of pop-culture, proponent of awesomeness in the world, Mets fan, self improvement enthusiast, & ENTP.