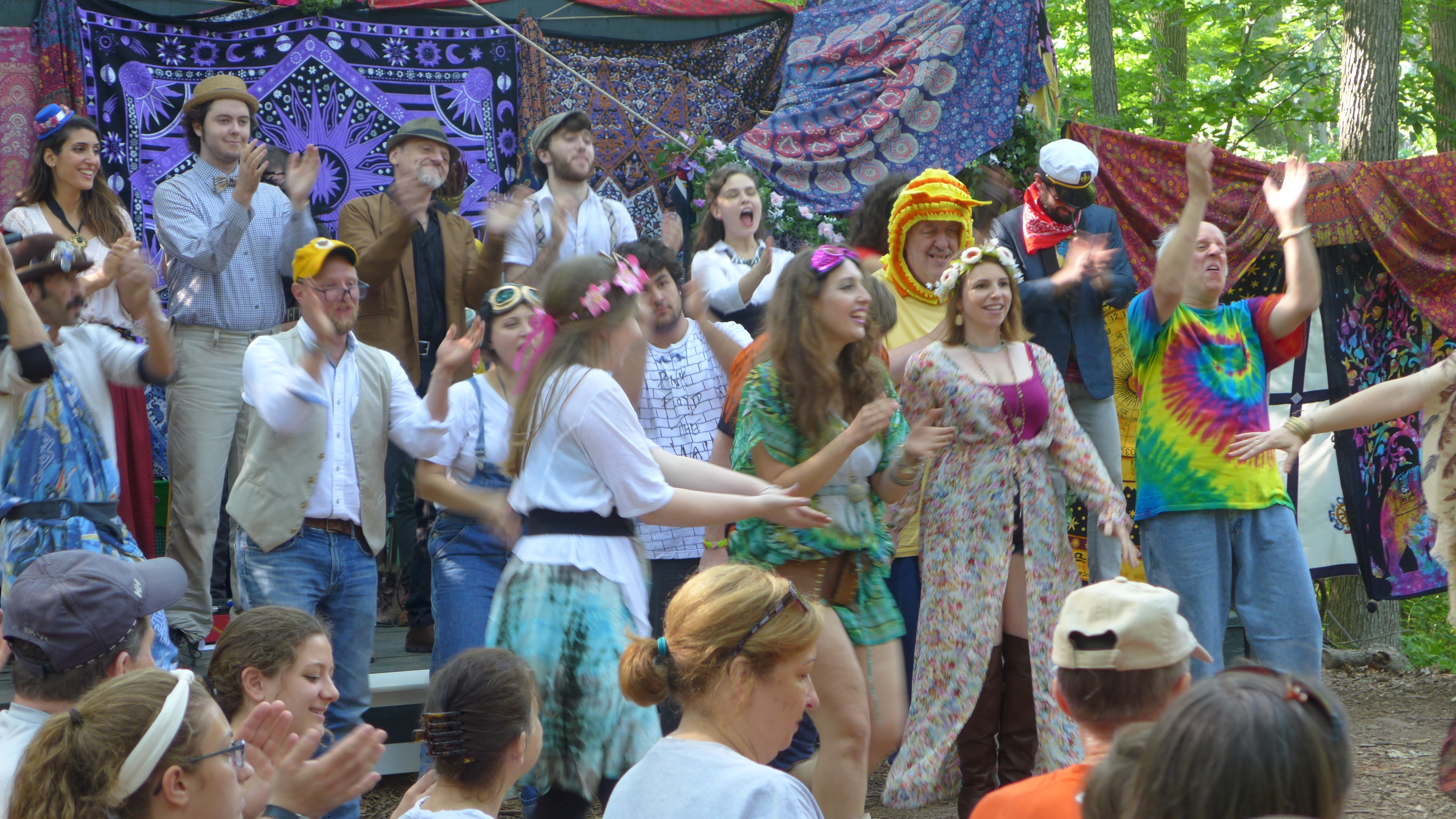 This past weekend I had the pleasure of attending "A Midsummer Night's Dream" in High Rock Park. The show was directed by Frank Williams (who you might recognize from Staten Island's premier jug band, the Wahoo Skiffle Crazies) and had an ensemble cast of highly talented actors and musicians. I was more than impressed with the whimsically hippy set design and the original music performance by Staten Island rockers, The Headlocks. A few of my close friends had some parts in the play, such as Carl Gallagher as Theseus, Duke of Athens, who was comical and a transitory component of the play.
"Play Synopsis….for the faint of heart"

In A Midsummer Night's Dream, residents of Athens mix with fairies from a local forest, with comic results. In the city, Theseus, Duke of Athens, is to marry Hippolyte, queen of the Amazons. Bottom the weaver and his friends rehearse in the woods a play they hope to state for the wedding celebrations….
Many of the patrons were local artists and students. It was nice to see the community come together. All in all, I have to say that I was impressed with the show and all the work that went into it. I highly recommend if you get the chance this weekend to check it out!
The production was made possible (in part) by a New York State Council on the Arts Encore Grant from Staten Island Arts, and funding from Richmond County Savings Foundation and the Lois and Richard Nicotra Foundation.
Future performance of AMND are as follows: Saturday, June 25; Sunday, June 26 — both at 2 p.m, at High Rock Park (132 Altamont St, Staten Island, NY 10306). Then a special performance will take place at Lumen Festival 2016 on the night of June 25, starting at 7 p.m.
See the official event invite on Facebook,

here
Read Lauren Steussy's write up about the event on SILive.com, here
Written By Kristin Pitanza
Kristin Pitanza is an adjunct lecturer at the College of Staten Island and Saint John's University in which she teaches writing and education. Her dedication lies with her writing and her students. She facilitates a program through Saint John's University titled $30,000 degrees in which she helps high school students achieve a four year college career path. She is a native Staten Islander and likes writing about her hometown. Kristin also takes a large interest in adolescent development and literacy while helping students develop writing skills through the scaffolding of grammar to written text. She has helped develop department wide curriculum for her writing courses at the college. She has a Masters Degree from the Teachers College at Columbia University.